David Beckham and UNICEF respond to alleged hacked emails about knighthood campaign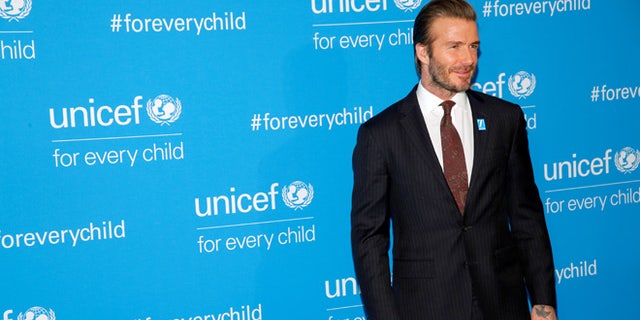 David Beckham is refuting reports that he used his relationship with UNICEF to campaign for knighthood.
On Friday, British outlet The Sun published supposed leaked emails between the soccer star and his publicist from 2013, where they discussed securing a knighthood.
WATCH: Victoria Beckham Shares Adorable Pic of David Beckham With Their Four Kids: 'I Think They Love Him!'
In the alleged emails, Beckham, who was awarded an Order of the British Empire in 2003, calls British singer Katherine Jenkins' OBE award "a f**king joke," and refers to the committee who decides who gets the honors a "bunch of c**ts." His publicist reportedly encouraged Beckham to focus on charitable efforts like UNICEF, which he's has been an ambassador for since 2005.
On Saturday, a spokesperson for Beckham defended the father of four, saying that recent reports paint "a deliberately inaccurate picture."
"This story is based on outdated material taken out of context from hacked and doctored private emails from a third party server and gives a deliberately inaccurate picture," the spokesperson said in a statement to ET.
"David Beckham and UNICEF have had a powerful partnership in support of children for over 15 years. The David Beckham 7 Fund specifically has raised millions of pounds and helped millions of vulnerable children around the world," the statement continued. "David Beckham has given significant time and energy and has made personal financial donations to the 7 Fund and this commitment will continue long term."
RELATED: David Beckham Reveals He Renewed Wedding Vows With Victoria Beckham: 'Marriage Is Difficult at Times'
"Before establishing the 7 Fund, David had supported UNICEF and a number of other charities over many years, including donating his entire earnings from PSG during his time playing there," the statement added. "David and UNICEF are rightly proud of what they have and will continue to achieve together and are happy to let the facts speak for themselves."
UNICEF, meanwhile, released a statement of their own, commending Beckham for his work with the organization.
"David Beckham has been a UNICEF Goodwill Ambassador since 2005, and as well as generously giving his time, energy and support to help raise awareness and funds for UNICEF's work for children, David has given significant funds personally," read a post on UNICEF's website, alongside examples of how Beckham's The 7 Fund helps save children's lives around the world.
ET caught up with Beckham at UNICEF's 70th Anniversary Event in December, where he spoke about passing down his charitable spirit to his children.
EXCLUSIVE: Victoria Beckham Praises Husband David and Kids at NYFW: 'I Feel Very Lucky and Incredibly Blessed'
Additional reporting by Joe Siyam.