'Dancing with the Stars' recap: Nyle DiMarco's amazing performance and more premiere highlights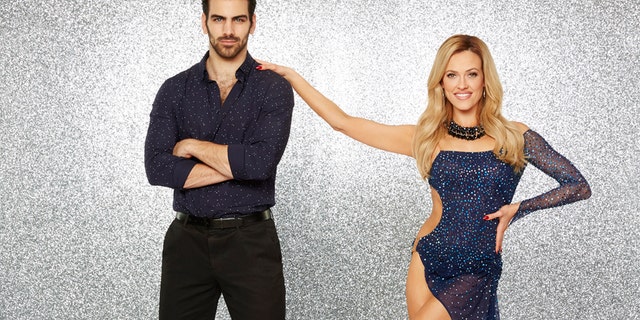 NEWYou can now listen to Fox News articles!
A deaf reality star's stunning performance thrilled the audience at Monday night's "Dancing with the Stars" premiere.
"America's Next Top Model" hunk Nyle DiMarco and his partner Peta Murgatroyd were in a three-way tie for first place when season 22's first show ended.
DiMarco and Murgatroyd scored a 23 out of 30 for their cha cha routine that pulled out all stops and even featured the model ripping his shirt open. It was remarkable because viewers learned in rehearsal footage that he followed Murgatroyd with his eyes to stay on beat.
Only Boyz II men singer Wanya Morris with his partner Lindsay Arnold and "Good Morning America" weather gal Ginger Zee with Val Chmerkovskiy equaled the 23 score.
After the show, DiMarco spoke to reporters with Murgatroyd by his side.
"I felt great. I think we killed it today," he told FOX411 through an interpreter. "We were both confident going in but it was a matter of timing…now the world knows that we can dance and I'm a contender."
Murgatroyd recently got engaged to former "DWTS" pro Maksim Chmerkovskiy, and said her fiancé has visited rehearsals and helped DiMarco with "manly details" of performance.
"It's definitely nice having Maks come in 'cause we're the same size, same height and we have the same features so it's perfect, whatever he does I can copy," DiMarco noted of Maks.
DiMarco hopes he "can inspire and change people's lives" by showing he can dance—despite not being able to hear a note of the music.
Meanwhile, Boyz II Men singer Morris said of his stellar cha cha with Lindsay Arnold, "I'm relieved, the weight is lifted off of my shoulders. The first show jitters are gone, now it's time to go hard."
Morris said he was looking forward to losing weight on the show, like boy bander Joey Fatone did during his time on "DWTS."
"I just want to look good," the R&B star said. "This is an opportunity for me to get myself right and stay right."
Also impressive were the stars who scored 21—Donald Trump's actress ex-wife Marla Maples, martial artist Paige VanZant, and football stars Von Miller and Antonio Brown.
Denver Broncos linebacker Miller, standing by partner Witney Carson, said he was trying to "bring the same type of mind set from football to the dance floor. There's pressure every day in life in my profession. You've got to find a way to perform well to be successful. We've got to find a way to do it here." He said Carson and her husband act like his parents, "It's crazy, even though she's 22, her personality is just so commanding."
Former "Facts of Life" star Kim Fields was also happy with her partner Sasha Farber and they got a strong 20 score on Monday. "We're really dedicated and passionate," Fields said. "I feel amazing…life begins when your comfort zone ends."
Another TV star, Jodie Sweetin of "Full House" and the recent spinoff "Fuller House," also garnered a 20 from judges and told reporters later, "I'm beginning to do what I love to do again and really find myself."
Sweetin, who famously battled drug problems before turning her life around, said, "I don't think that anything can really prepare you to experience some of the things that I've gone through and then be able to come back out on top…my life has been blessed. I'm soaking up every moment and opportunity…I love to perform."
Mischa Barton and partner Artem Chigvintsev received a score of 16 for their stilted vampire-themed tango. After judge Len Goodman told Barton, "That wasn't a dance" and Bruno Tonioli said "It looks like you're sedated," the former "The O.C." actress seemed visibly upset. She sighed to co-host Erin Andrews afterwards, "I have no clue what I'm doing."
It was no surprise when Barton did few interviews backstage.
But football legend Doug Flutie, who only scored 15 with partner Karina Smirnoff, was happy to tell FOX411, "We did a clean routine and got through it and had fun. This is a new environment for me but with the energy in the room, I got excited."
FOX News correspondent Geraldo Rivera got the lowest score, a 13, for his cha cha with Edyta Sliwinska.
Despite the fun most are having, all the stars face their ultimate test next week when there's an elimination planned.