Cosby sex assault case: Andrea Constand says 'I wasn't able to fight in any way'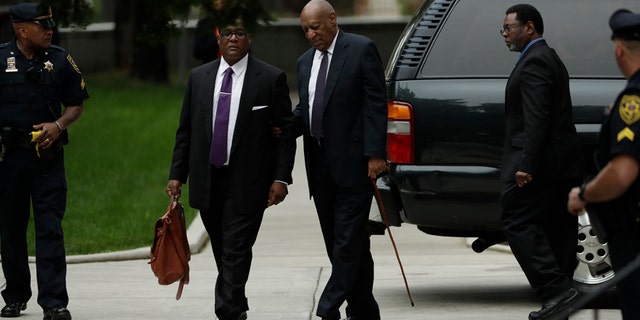 NEWYou can now listen to Fox News articles!
Andrea Constand, Bill Cosby's chief accuser, took the stand on Tuesday and described for the first time in her own words how she says the 79-year-old comedian sexually abused her in 2004.
The entertainer is charged with sexually assaulting Constand.
She took the stand at around 3 p.m. and arrived at the Pennsylvania courthouse about an hour earlier.
The 44-year-old was wearing a light blue blazer and a white shirt. She leaned into the mic as she described her occupation as a massage therapist and stated she currently lives in Toronto.
Constand said the comedian groped her after giving her three blue pills that left her paralyzed and helpless.
"In my head, I was trying to get my hands to move or my legs to move, but I was frozen," Constand, a former employee of the basketball program at Temple University, Cosby's alma mater, said in their long-awaited courtroom confrontation. "I wasn't able to fight in any way. I wanted it to stop."
Constand said Cosby gave her pills he claimed were a natural remedy to ease her stress about a looming career change.
"They're your friends. They'll take the edge off," she quoted him as saying. Constand then described feeling woozy after about 20 minutes, with blurred vision, slurred words, and legs that felt like rubber. Cosby then reportedly sexually violated her.
Afterward, Constand said, "I felt really humiliated and I felt really confused."
Cosby, sitting across the room at the defense table, leaned in to listen, whispered to his lawyer and, at times, shook his head.
Constand revealed she told her mother about the alleged incident, prompting both women to call Cosby. She claimed Cosby eventually apologized to her and her mother. When Constand asked what type of pill Cosby gave her, he reportedly responded he'd write it down on a piece of paper and mail it to her.
Constand added she felt somewhat relieved after Cosby apologized on the phone, but she still didn't know the name of the mysterious pill.
Approximately 60 women have accused Cosby of sexually assaulting them since 1965, but Cosby is charged in just one case, involving Constand.
Cosby, his good-guy reputation already in ruins, could get 10 years in prison if convicted of aggravated indecent assault.
Before Tuesday, Constand had never spoken about Cosby in public, barred from doing so under the terms of a confidential settlement they reached in 2006. Her deposition from that lawsuit remains sealed.
Stewart Parsons, a Detective Constable in the Toronto Police Department who is also Constand's brother-in-law, also testified in court Tuesday. Parsons stated that almost immediately, he told the family Constand needed to hire a lawyer in 2005 to represent her and look after her best interest.
Prosecutors opened their case on Monday by calling another woman to the stand, Kelly Johnson, to show the former "Cosby Show" star had a habit of drugging women and then molesting them.
Johnson, of Atlanta, testified on Day 1 she lost consciousness shortly after Cosby pressured her into taking a large, white pill. She said once she awoke, Cosby was naked and forced her to sexually gratify him with her hand.
Johnson's mother, Pattrice Sewell, testified Tuesday that her daughter was distraught during a telephone call in 1996, fearing Cosby was trying to get her fired from her job working for the comedian's agent. A few weeks later, Sewell said, Johnson disclosed that she had woken up next to Cosby in bed with her clothes askew.
The defense has attacked Johnson's credibility over discrepancies in her accounts, including the year it occurred. Cosby grinned at the defense table as she struggled to explain them.
Sewell, who prosecutors hoped would help corroborate Johnson's story, said they didn't go to police at the time because her husband, a Los Angeles detective, feared the ordeal that would ensue.
Johnson told a similar story in 1996, when she gave sworn testimony in a deposition attached to a worker's compensation claim.
Joseph Miller, a workers' compensation lawyer, testified Tuesday he was taken aback when Johnson said she had been drugged and violated by Cosby. He said Johnson made the disclosure while pursuing a claim that she had developed debilitating stress from her secretarial job.
Miller said Johnson was tearful as she described waking up on a bed with her dress pulled down and her breast exposed — details that matched the story Johnson told on the stand.
But Miller's timeline differed somewhat from Johnson's. He said she testified in 1996 about going to Cosby's home after the alleged assault. Johnson said on Monday that that meeting happened beforehand.
Cosby's lawyers have argued that deceased witnesses, lost evidence and fading memories make it nearly impossible for them to defend the comedian against the 12-year-old complaint.
Detective Dave Mason of Durham Police in Canada also testified Tuesday. On January 13, 2005 he responded to a call for a sex offense incident at Constand's home, who reportedly knew Cosby. According to Mason, he didn't recall Constand being upset, but rather "a little embarassed."
Prosecutors this week plan to call a toxicologist to discuss the effects of drugs like quaaludes, a powerful sedative, and the cold and allergy medicine Benadryl, both of which Cosby has acknowledged giving women before sexual encounters.
The disgraced comedian arrived for the second day of his sexual assault trial wearing a dark suit, using a cane and without the visible support of friends or family members. His wife Camille did not join her husband as his trial began Monday, but he was accompanied by Keshia Knight Pulliam who played his daughter Rudy on "The Cosby Show."
Fox News' Lissa Kaplan and Tamara Gitt and the Associated Press contributed to this report.