Comedy Central's New Series Put Fresh Twists on Odd Couple, Dr. Ruth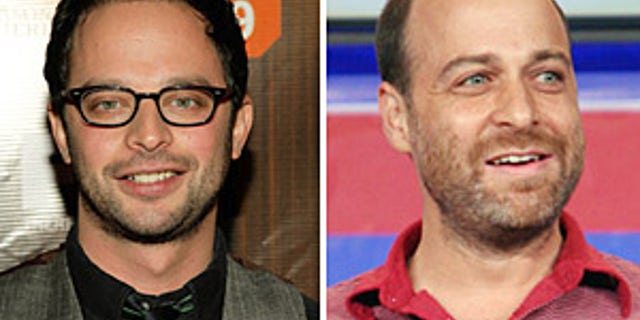 From The Odd Couple to Dr. Ruth, Comedy Central is taking a look back as it moves forward with a wide-ranging slate of new programming.
Stand-up comics Bill Burr and Kevin Hart hope to put a modern spin on The Odd Couple with a new half-hour untitled comedy.
Watch Funny or Die videos online
Comic Bert Kreischer and model Layla Kayleigh will team up for Live Sex Show, a live, fully interactive panel that will take a humorous approach to sex and allow viewers to participate by Twitter, e-mail, text and Skype.
Based on a Funny or Die short, Nick Kroll and Jon Daly will star in Rich Dicks as obnoxiously wealthy partygoers in Los Angeles. Also produced by Funny or Die is Jon Benjamin Has a Van, from the Archer actor and comic; it's a sketch show that puts a new twist on investigative newsmagazines.
UCB's Chris Gethard replaces Jon Heder in Comedy Central sitcom
Besides Funny or Die, the channel is working with known comedy brand Upright Citizens Brigade for the sketch show This Show Will You Get High. The project will feature UCB's latest up-and-coming comics and show them performing around the U.S. between sketches.
In the same vein is Highdeas, a comedy reality show based on the website highdeas.com, where the hosts explore questions that could only be posed by stoners (for example, white chocolate milk).
Watch full episodes of Futurama
Steel Panther, a parody heavy metal band from Los Angeles, will get the mockumentary treatment (a la Spinal Tap) with a eponymous new series.
The cable channel also announced premiere dates for previously announced projects from Nick Swardson and the Onion. This summer, Futurama will make its Comedy Central premiere June 24 and Big Lake, formerly known as The Untitled Jon Heder Project, will debut in August. Nick Swardson's Pretend Time will bow in October, followed by the premiere of The Onion Sports Network in January 2011.
Comment on this article at TVGuide.com >
Related Articles on TVGuide.com
Other Links From TVGuide.com