Columnist slammed for saying 'liberal' Meghan Markle 'unsuitable' to marry Harry because she's divorced
The Spectator columnist Melanie McDonagh is being slammed across social media on Monday for a column that says actress Meghan Markle is "unsuitable" to marry Prince Harry because she has been married in the past, and is a liberal.
McDonagh is Irish but lives in London and also writes for the Evening Standard. Her controversial column headline, "Prince Harry and Meghan Markle: The union of royalty and showbiz," makes it clear she isn't a fan of the upcoming marriage because she is both a divorcee and liberal.
"Obviously, seventy years ago, Meghan Markle would have been the kind of woman the Prince would have had for a mistress, not a wife," McDonagh wrote.
"Obviously, seventy years ago, Meghan Markle would have been the kind of woman the Prince would have had for a mistress, not a wife."
McDonagh continued: "Things have changed. She'll now be the apotheosis of the union of showbiz and royalty, with a glorious subsidiary cast of embarrassing relations."
Markle married film producer Trevor Engelson in 2011, but the pair divorced two years later. Prince Harry's grandmother, Queen Elizabeth II, is supreme governor of the Church of England – and the church apparently doesn't believe the Prince of Wales should marry a divorcée, despite the fact that numerous members of the royal family have gotten divorced.
The Spectator columnist then attacked the "Suits" star for her liberal political views, mocking Hollywood for being anti-Trump.
"Like every self-respecting member of the acting profession these days, she's got liberal political views," McDonagh wrote. "Hmm. Great. You can see it now, can't you: when President Trump calls, Princess Meghan will be almost visibly holding her nose."
McDonagh's take on the young couple has received a ton of social media backlash. One user called the column "a churlish, miserable sourpuss piece" while another said, "McDonagh must shut up." Another took to Twitter to ask, "Why does she still live in the 1800s?"
McDonagh was also called "the most joyless person alive" and her column was ripped as "an absolute disgrace."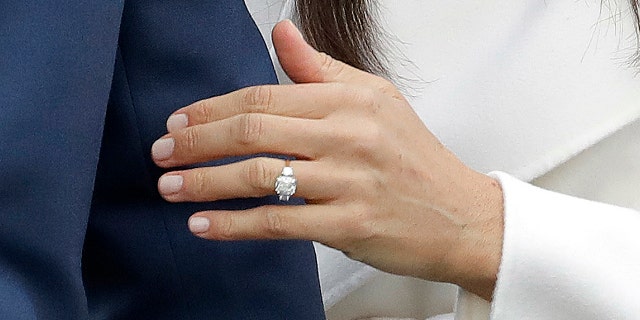 The couple is expected to get married in spring 2018, Kensington Palace announced through Harry's father, Prince Charles, on Monday. The couple got engaged in London earlier this month after meeting in the summer of 2016 through mutual friends.
"His Royal Highness the Prince of Wales is delighted to announce the engagement of Prince Harry to Ms. Meghan Markle," the statement read. "His Royal Highness and Ms. Markle became engaged in London earlier this month."
It continued: "Prince Harry has informed Her Majesty the Queen and other close members of his family. Prince Harry has also sought and received the blessing of Ms. Markle's parents."
The statement said the couple will live in Nottingham Cottage at Kensington Palace. The upcoming wedding will be the first grand royal wedding since Prince William and Kate Middleton got married in 2011.
Katherine Lam contributed to this report.