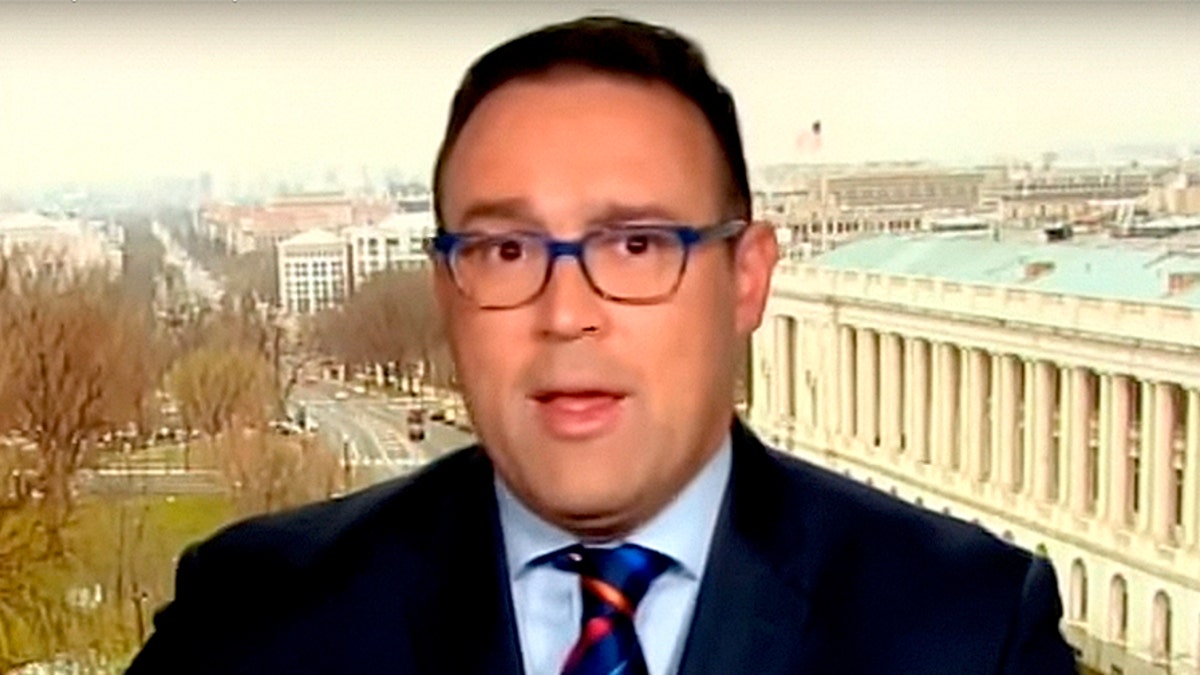 CNN politics reporter and editor-at-large Chris Cillizza used an emotional story about a mother who lost her son to the opioid epidemic as political fodder against President Trump in a Monday morning tweet.
"Fox & Friends" featured a segment about Sue Kruczek, who joined the morning show to explain why she sent a letter to the president detailing her son's opioid overdose. She lost her son four years ago when he was 20 years old.
"Through our broken hearts, we wanted to show the president our love," Kruczek said before reading an excerpt of the letter she sent Trump.
"I can walk away the lucky one now. I was privileged to be Nick's mom for 20 years and I got to hear, 'I love you, Mom,' every single day," a teary-eyed Kruczek read from the letter on live television.
The president was apparently watching the interview, or at least informed of the tragedy, and took to Twitter to offer kind words for Kruczek.
"Thank you to Sue Kruczek, who lost her wonderful and talented son Nick to the Opioid scourge, for your kind words while on @foxandfriends. We are fighting this terrible epidemic hard," Trump tweeted on Monday morning. "Nick will not have died in vain!"
Cillizza quoted the president's tweet and mocked him for watching television.
"'But I don't get to watch much television. Primarily because of documents.' -- Donald Trump," Cillizza wrote.
Back in November, Trump told reporters that he doesn't get to watch much television because he spends so much time reading documents. "I actually read much more -- I read you people much more than I watch television," he told reporters on Air Force One at the time.
CNN Worldwide President Jeff Zucker has seemingly installed an anti-Trump programming strategy at the increasingly liberal network. Anchors Anderson Cooper, Don Lemon, Chris Cuomo, Brooke Baldwin and Senior White House Correspondent Jim Acosta are some of the network's stars who have been vocal about their disdain for the president. This past weekend, CNN was slammed for publishing a glowing puff piece about North Korean leader Kim Jong Un's sister appearing at the Olympics in Pyeongchang, South Korea — with a headline claiming she was "stealing the show."
Some observers think CNN is now the official cable news leader in anti-Trump content. Media Research Center Vice President Dan Gainor called Zucker's network the "TV home for the resistance," while others criticize CNN for failing to admit what it has become.
"It seems to me that MSNBC sort of owns its own liberalness in that they don't shy away from it, while CNN still makes this attempt to call themselves unbiased despite their coverage often being slanted," Mediaite columnist Joseph Wulfsohn told Fox News.
Meanwhile, President Trump has vowed to fight the opioid crisis that is plaguing America, regularly saying, "We will prevail." Cillizza criticizes Trump on a regular basis, often calling him a hypocrite, and he recently accused the president of spending his day watching taped episodes of the Fox News morning show.
Cillizza's claim to fame is that Trump once called him "one of the dumber and least respected of the political pundits," which the CNN star quotes on his Twitter bio.