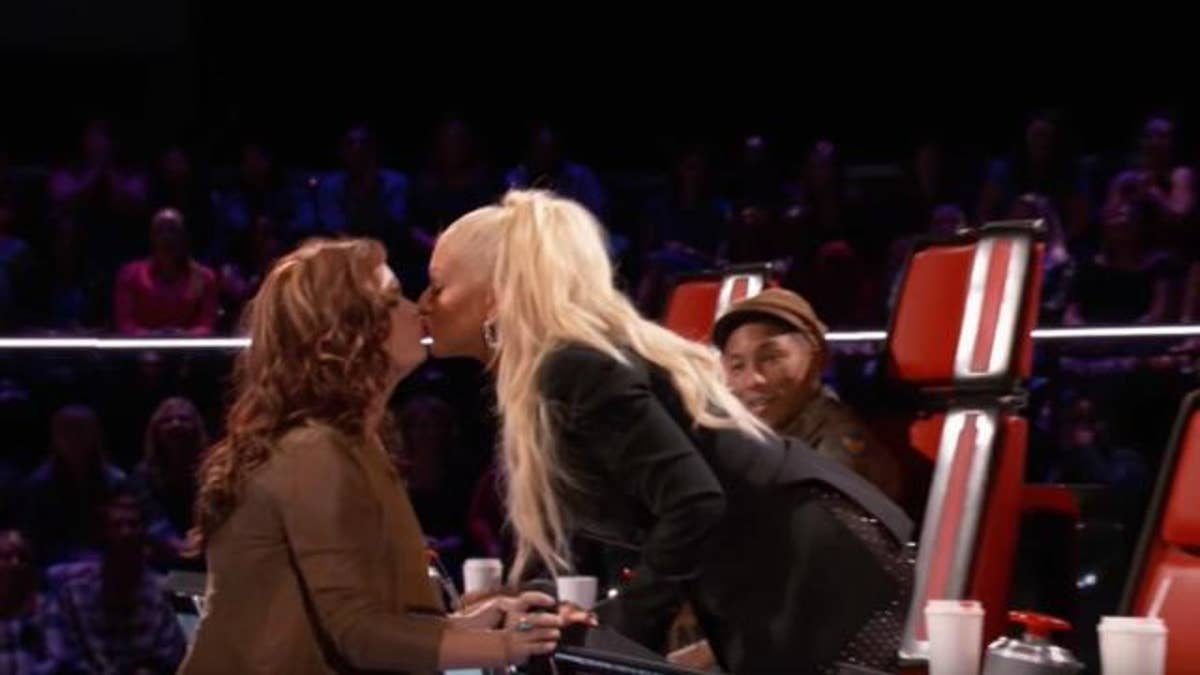 "The Voice" definitely saved the best for last!
After Curly Sue star Alisan Porter slayed the competition on Monday's premiere, "Voice" hopeful Kata Hay turned it up a notch on Tuesday with an unbelievable cover of Gretchen Wilson's power anthem "Redneck Woman."
But her powerful pipes weren't the reason three of the four coaches -- Adam Levine, Christina Aguilera and Pharrell -- were left speechless and turned their chairs.
RELATED: 'Curly Sue' Star's Flawless Audition Brings Christina Aguilera to Tears on 'The Voice'
The fun-loving 28-year-old from Tulsa, Oklahoma immediately made her presence known following her killer blind audition, running straight at Adam -- straddling him and planting a kiss on his cheek -- before giving Christina and Pharrell some love too.
Kata also revealed a childhood crush on Xtina that turned the tide in favor of the powerhouse vocalist.
"You were my official first girl crush," Kata, whose girlfriend was backstage, told Christina. "You're so freakin' beautiful in person!
"You're so freakin' beautiful! Should we just make out now because I was your first crush? Let's get it over with so we can get to work," the 35-year-old singer offered, to the absolute shock and delight of Pharrell.
RELATED: Christina Aguilera Wants to Win 'The Voice' Season 10 Badly
Christina fulfilled her promise, sharing an innocent peck on the lips with Kata.
Afterwards, Pharrell lost his mind. "Wake up! Wake up!" the "Happy" singer joked, slapping himself out of his dream.
But Christina wasn't finished. "If you pick me," Christina hinted to Kata, "there's more of that to come."
PICS: Christina Aguilera Channels Old School Xtina in New 'Voice' Promo Photos
"It's cool. This is a dream, so I just get to do whatever I want," Pharrell said from the audience, completely spell-bounded.
Christina wasn't about to let Kata go to either of her fellow coaches.
"I'm not playing around anymore. Let's get down to business -- the first woman to win this thing. Let's put fire, let's put spunk, let's put sassiness in it, bring it down for the tender moments. I'm feeling this," she continued.
So did it work? It sure did! Welcome to Team Christina, Kata.