Carrie Underwood celebrates 23rd No. 1 hit with 'Heartbeat'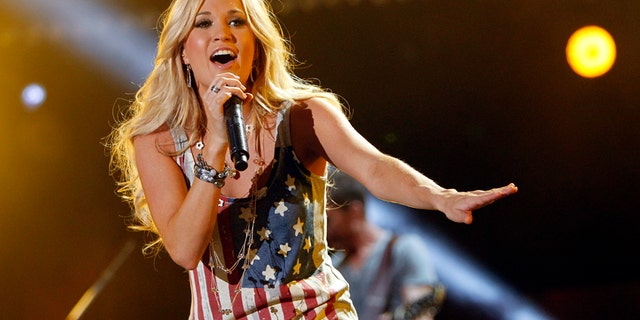 Carrie Underwood has done it again. Her latest single "Heartbeat" has officially reached No. 1 on the Billboard and Mediabase Country Airplay charts, marking her 23rd career No. 1 and 13th as a songwriter.
Underwood co-wrote "Heartbeat" with Zach Crowell and Ashley Gorley, and it was released as the second single from her newest record "Storyteller." (The first single, "Smoke Break," also hit No. 1.) Sam Hunt provided background vocals for "Heartbeat" and also backed her on the R&B-infused song during their performance together at the Grammys.
"I don't do typically do very many love songs. But 'Heartbeat,' when we were writing it, there was something so real about it," Underwood has said of the song. "That's definitely, in some ways, that's me. It's my story."
The singer says it relates to her relationship with her husband, NHL player Mike Fisher. "I'm the kind of person, I just want to be alone with him, and be one on one," she explains.
Underwood is currently on her sold-out "Storyteller" tour with Easton Corbin and the Swon Brothers, performing "Heartbeat" and her other No. 1s alongside a few impressive covers like Dolly Parton's "I Will Always Love You." She recently gave an acoustic performance of the iconic country ballad on the Bobby Bones Show, as well.
Not only is Underwood touring and performing full time, but she's also busy being a mom to Isaiah, who recently turned one, as did her fitness wear line, Calia by Carrie.
How Much Do You Know About Carrie Underwood?