Bruno Mars, Ed Sheeran poke fun at Taylor Swift-Nicki Minaj spat: 'I want in on Twitter beef!'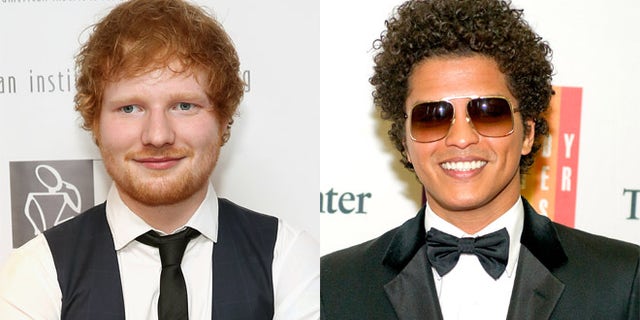 Bruno Mars and fellow MTV Video Music Awards nominee Ed Sheeran decided to poke some fun at the Twitter exchanges between Taylor Swift and Nicki Minaj that has taken social media by storm.
Mars kicked off the tongue-in-cheek feud with Sherran: "Yo I want in on this twitter Beef!! VMAs is the new WWF!! @edsheeran F—You!"
The "Thinking Out Loud" singer accepted the challenge, following up with his own faux menacing response.
"@BrunoMars any way we do dis you gon' come up short," he tweeted.
To which Mars responded: "That Cut deep..U always know how to sheer me to the core. I can't believe we're Sheeran this in public. How dare u!"
Mars and Sheeran's hilarious back-and-forth comes after Minaj took to Twitter to speak out about the VMA nominations. Her tweet focused on her failure to be nominated for Video of the Year and the issue of race in the music business.
"If I was a different "kind" of artist, Anaconda would be nominated for best choreo and vid of the year as well," the rapper wrote. "Ellen did her own anaconda video and did the #choreo lol. Remember her doing that kick. Even mtv did a post on the choreo @MTV remember?"
She continued: "U couldn't go on social media w/o seeing ppl doing the cover art, choreo, outfits for Halloween...an impact like that & no VOTY nomination?"
"When the "other" girls drop a video that breaks records and impacts culture they get that nomination," Minaj wrote.
That tweet that seemed to get Swift's attention.
"If your video celebrates women with very slim bodies, you will be nominated for vid of the year," Minaj wrote.
Swift seemed to take it personally and replied to Minaj: "I've done nothing but love & support you. It's unlike you to pit women against each other. Maybe one of the men took your slot."
The "Anaconda" rapper was quick to reply and deny she meant any shade.
"Huh? U must not be reading my tweets. Didn't say a word about u. I love u just as much. But u should speak on this," she wrote.
Swift seemed to quickly call a truce, but singer Katy Perry added her two cents, suggesting it was "ironic" – without saying names – that Swift had criticized Minaj for pitting women against each other, when Swift seems to like those fights.
"Finding it ironic to parade the pit women against other women argument about as one unmeasurably capitalizes on the take down of a woman..." Perry wrote.
Like us on Facebook
Follow us on Twitter & Instagram