Britney Spears' Bizarre Birthday Date Night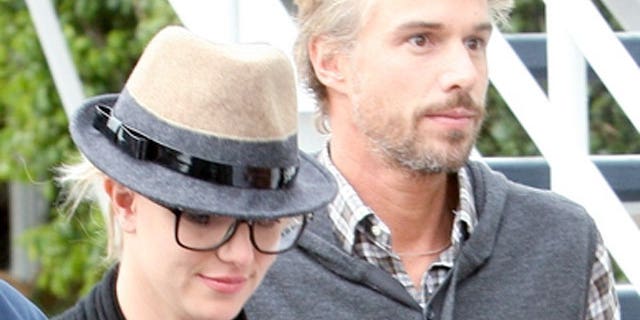 You can take a girl out of the country, but you can't take the country out of the girl.
Perhaps still recovering from her controversial trip Down Under, Louisiana-native Britney Spears found an interesting way to ring in her 28th Birthday.
Pop Tarts spies spotted Spears (donning jeans and a studded leather jacket) and her beau Jason Trawick very late Tuesday night in a private table at West Hollywood's infamous Saddle Ranch Chop House where they cuddled in the back corner and observed the shenanigans of bull-ridin' and bootscootin' on the dance floor.
Sounds romantic.
"Britney looked so happy, smiling and giggling," an eyewitness told Tarts. "She ran into one of her former backup dancers, T.J. Espinosa and was quick to move outside and spend the rest of the night with him."
The songstress was also invited by staff to join in with karaoke, but not surprisingly, she declined. After all the hoopla over her lip-syncing concerts, perhaps singing live was too much of a stretch. We're also told Spears "indulged" in quite the birthday meal -- water and diet coke.
And despite looking so chummy with Trawick, an inside source close to Spears told Tarts that things aren't always what they seem …
"Britney and Jason will probably end up getting married," said an insider. "But Britney's dad is more into the relationship than she is. He so badly wants her to stay with Jason because he's a good influence and takes good care of her."
Oh, and for the record, he picked up the Saddleranch tab.