Bill Hader talks playing a pig in the 'Angry Birds' movie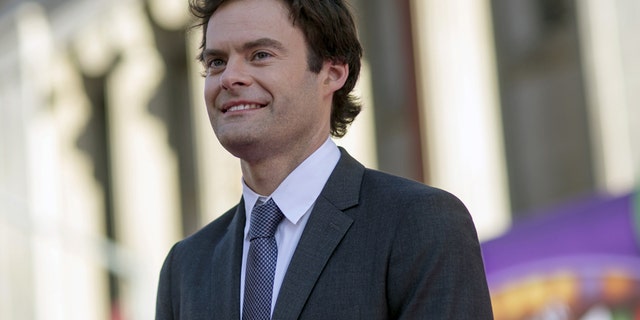 LOS ANGELES – The cast of "Angry Birds"—Jason Sudeikis, Bill Hader, Josh Gad and Danny McBride—showed no signs of anger as they dished about their characters in the upcoming flick.
Adapted from the popular video game franchise, "Angry Birds" tells the story of flightless outsider birds who live on an island that are visited by unwanted green pigs. Sudeikis plays Red, a bird with a severe temper problem while Hader plays a green pig.
Hader explained he had no reservations about taking on the role.
"My agent called me and said they are going to do an 'Angry Birds' movie, they want you to play a pig," he said with a smirk. "I mean you guys draw your own conclusions."
Sudeikis said, all jokes aside, the message of the movie is a powerful one because anger is an emotion that affects everyone's life.
"We've gotten at acting like it (anger) doesn't exist, but it clearly still does and letting it out every now and then is a healthy thing," he said. "Never go too far one way or the other, don't hold it all the way in and don't let it all the way out. But a little 'tude of anger every now and then is a nice thing."
Hader added that although people may think that a voiceover role in a film is easy, it is actually quite the opposite.
"I'm so brain dead after (recording) because you are just yelling for five hours, the same line over and over again," he said. "They did a great job I thought of putting this story together with the game. A lot of these animated movies, they take years and years and years but these guys are so good. It's not like we show up, and there's the 'Angry Birds' script…"
Sudeikis shared how he was able to find a voice to play a character that was full of anger.
"Mine was pretty much an amped up version of myself; it's not too dissimilar," he said. "We toyed with the idea of maybe making a big swing or a medium swing and it just felt that in order to play the sarcasm, the frustration and the anger, I should just do it in my voice."
Sudeikis believes viewers will take away a positive message from the film.
"I think speaking up for yourself and standing up for yourself is a good thing to learn as a human being regardless of your age or height."
"Angry Birds" catapults to theaters May 20th.