'Big Bang' star Kaley Cuoco breaks down while exchanging wedding vows to Karl Cook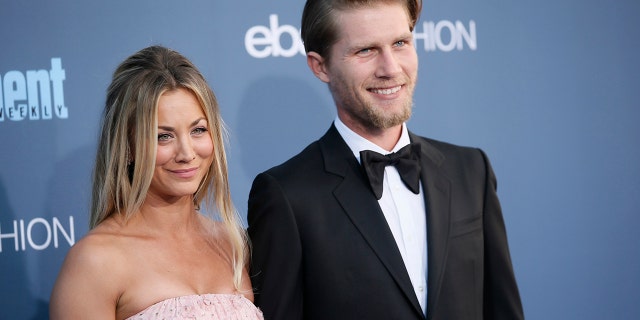 Kaley Cuoco couldn't help but get emotional when she recited her wedding vows to husband Karl Cook during their horse-themed wedding.
"[And] I would go to my phone, and I'd go to my notes and I couldn't write anything," the 32-year-old actress tells her now-husband in an Instagram story clip from the altar. "And I didn't really understand why. And it's because there really weren't enough words to describe how I actually, truly feel about you."
Cuoco fought back tears during the special moment, but her 26-year-old groom was there to make her smile as he recited his sprightly vows.
"To understand you plucking my eyes with my unibrow comes from a place of love… I promise to remove any errant insect that journeys into our home," Cook said landing a chuckle from his peppy bride.
Cuoco, 32, wore a lacy gown with a matching cape and Louise et Cie Heels. Her ensemble was designed by Reem Acra. Cook, 27, kept it classic with a traditional black tuxedo, according to Page Six.
"Legally KCSQUARED 6-30-18," she captioned the image.
For the reception, Cuoco changed into a lacy white jumpsuit while Cook continued wearing a traditional suit with a black tie.
The ceremony was filled with lovely touches, including personally written vows.
Cuoco's sister, Briana, even officiated the ceremony and quipped to guests that she got her license from an online course.
This is Cook's first marriage and Cuoco's second. She previously was married to tennis star Ryan Sweeting, but they divorced in 2016 after just 21 months together.
Fox News' Zoe Szathmary and Tyler McCarthy contributed to this report.