Ban Ki-moon twerks, Michael Douglas honored at United Nations soiree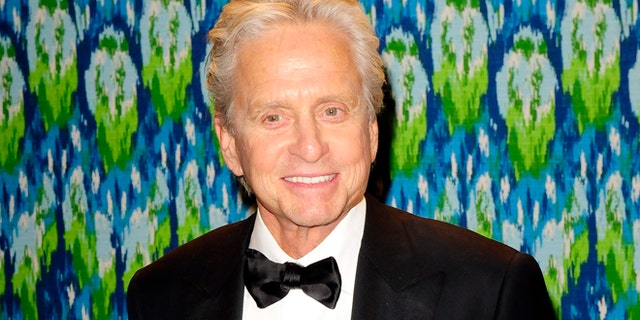 Michael Douglas was awarded the Global Citizen of the Year honor during the UN Correspondents Association annual dinner at Cipriani's in New York City on Wednesday, and he didn't miss a beat when it came to reiterating his stance on nuclear disarmament.
"Thank you for giving disarmament a voice... Making people world wide aware. Disarmament lies at mankind's quest for peace," he told the audience during his acceptance speech. "A nation with tanks, bombs, and fighter jets is much less likely to be secure for its people. And (those with) nuclear weapons are even less likely to be secure for its people."
Douglas then went on to question the "billions of dollars" spent by the government to ultimately shatter society, and urged listeners to create alternative methods of dealing with conflict than warfare and violence.
"It's up to us to do every thing we can to facilitate this trend and promote disarmament," he concluded. "It's you who make voice heard."
Douglas wasn't the only celebrity to make his presence known in a room filled with international journalists and dignitaries. Stevie Wonder was also feted by the UN organization, and in turn he took to the stage to praise correspondents for their "continued unbiased coverage" of global affairs which a "critical in keeping (the) peace." On that note, prominent rapper Run DMC too entertained the crowd with a peace-promoting tune performed with a former child soldier.
But the Hollywood influence over the United Nations Correspondents Association gala didn't end there. H.E. Ban Ki-moon, Secretary-General of the United Nations, somehow spent much of his time on the stage discussing the value of twerking.
Subsequently, footage of U.N officials with their rear ends in the air, copying those famous Miley Cyrus moves, were then aired.
"So many people are talking about twerking," Ki-Moon added. "It was easy, and quite frankly I was good at it."
Follow the writer of this story @holliesmckay