Ashton Kutcher's appearance at ACMs angers Blake Shelton, Miranda Lambert, other country stars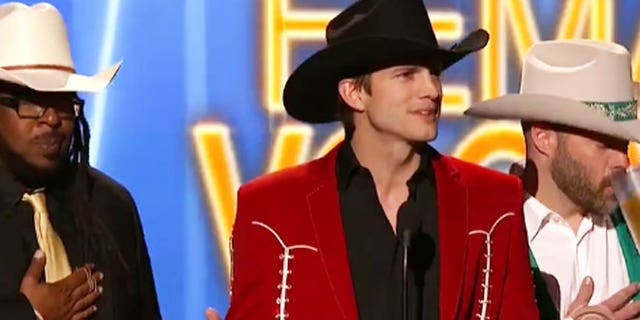 NEWYou can now listen to Fox News articles!
Ashton Kutcher did a good job at the ACM country music awards on Sunday night, if by doing a good job, one means making enemies of the people who invited him onto the show.
Let us explain.
Kutcher, 34, presented the female vocalist of the year award dressed to the nines in classic country attire (big hat, big boots, etc.) and even sang a bit of George Strait's hit "I Cross My Heart" after doing some fake tuning up with his similarly attired, onstage buddies, one of whom was swigging a big mug of beer.
While that all may sound well and good, to some of the biggest stars at the event, it looked as if Kutcher was making fun of, not honoring, country music with his antics.
Blake Shelton wants to get 'wasted' again.
"Was Ashton Kutcher making fun of country or is it just me?" tweeted Miranda Lambert, to whom Kutcher presented the female vocalist of the year award.
Lambert's husband Blake Shelton, who stars on NBC's "The Voice," told Access Hollywood that he was "too busy to give a crap what Ashton Kutcher does."
MORE: Miranda Lambert news, pics, videos.
Justin Moore went so far as to call the "Two and a Half Men" star "a douche."
"I don't care for people making a mockery of the way country artists' dress," he added.
Ouch.
Kutcher was quick to respond on his favorite social network, tweeting "I Am One Of The biggest country Music fans you've ever met. Wasn't making fun at all."
What do you think: Was it an homage, or mockery?