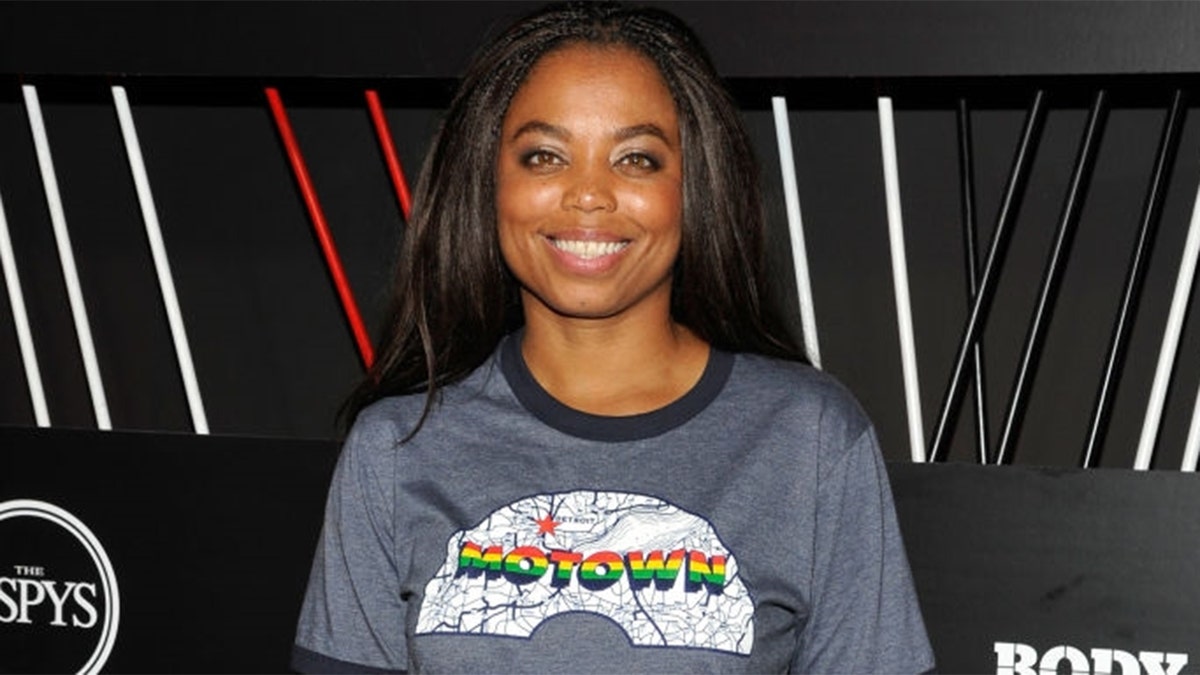 Outspoken liberal Jemele Hill will no longer host ESPN's flagship "SportsCenter," ESPN announced on Friday. She will be re-assigned to a new role at The Undefeated, the company's site that covers the intersections of sports and race.
The controversial Hill famously called President Trump a "white supremacist" on Twitter last year. ESPN initially declined to punish her but then sidelined her for two weeks in October when she violated the company's social media guidelines a second time by calling on fans to boycott the Dallas Cowboys' advertisers after owner Jerry Jones told players they would be benched if they did not stand up during the national anthem.
ESPN has said the move was Hill's choice, but sports talk radio host Clay Travis tweeted that she was "booted" due to "collapsing ratings."
Travis has been in front of all-things Hill and recently speculated that she would be removed from "SportsCenter." Sports Illustrated media guru Richard Deitsch predicted that Hill's "tenure as a SportsCenter anchor" was "effectively over" back in October of 2017.
Hill hosted the widely panned, urban 6 p.m. ET version of "SportsCenter" branded as "SC6" with Michael Smith, her good friend who once refused to anchor the show with a replacement while Hill was suspended. "SC6" will continue without Hill, for now, and with Smith at the helm.
"My first choice was to work with The Undefeated, a site that covers the intersection of race, African-American culture and sports in creative and compelling ways," Hill said in a statement. "I have longed for some time to return to my roots, so to speak. I'm ecstatic to be in such a supportive environment to explore the next phase in my career."
Hill and Smith will anchor their final "SC6" together on Friday, Feb. 2. The duo will attend the "Black Panther" movie premiere together and skip the show on Monday and Tuesday.
The polarizing Hill, 42, once blamed her troubles on media members who accuse ESPN of being too liberal for combing through her Twitter replies, looking for anti-Trump comments that would quickly became national news.
"Donald Trump is a white supremacist who has surrounded himself with other white supremacists," Hill wrote on Sept 11. She called him "the most ignorant, offensive president of my lifetime."
Hill also called Trump a "bigot," and "unqualified and unfit to be president." She added, "If he were not white, he never would have been elected." She admitted in October that she cried in a meeting because her comments made "ESPN become a punching bag," but she doesn't regret what was said.
Hill's anti-Trump comments caught the attention of the White House and Press Secretary Sarah Sanders, who said she considered the rhetoric a "fireable offense."
Trump even got involved himself, mocking Hill and ESPN's lackluster ratings.
"With Jemele Hill at the mike, it is no wonder ESPN ratings have 'tanked,' in fact, tanked so badly it is the talk of the industry!" Trump tweeted on Oct. 10, 2017.
Hill has been outspoken on various political issues and currently has a pair of photos of herself with President Obama pinned atop her Twitter feed – a clear indication that she wants her liberal views to be public knowledge.
On Thursday, Hill mocked the new XFL for declaring that the league will be free of political issues but will also force players to stand for the National Anthem. Her message was retweeted by the official account of her new home, The Undefeated.