Andy Samberg wants to ease American peoples' worries with 'Brooklyn Nine-Nine' and comedy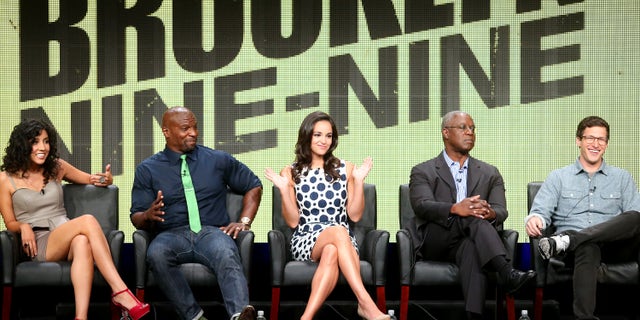 "Brooklyn Nine-Nine" reached a milestone in television history as they celebrate their 99th episode in November and star Andy Samberg told Fox News there is a sense of greatness in making Americans laugh during an important time.
"We are just doing what we did before and times are changing around us I think," he said in terms of making America laugh. "We adjusted the show a little bit but I've always been a firm believer that laugher is cathartic and that's always how I've used it, to deflate things and ease the tension in my real life."
Samberg who plays Detective Jake Peralta, said it's nice to make people forget about their worries.
"I've always found solice in comedies that I loved growing up and, even today it's a nice way to take a quick break. I would certainly not ask anyone to try to escape what's going on because everyone should be really present now I think. Just as many people would love a beer or glass of wine at the end of the day, it can't hurt to watch a quick show and forget about their worries for that short time."
Co-star Terry Crews, former NFL player, said working on this show is a dream.
"This business is hard and you don't know what works, you don't know what's happening and you hope you can just keep going and to get this far is a dream come true. I wouldn't have it any other way," he said. "This cast is the best cast I have ever been involved with. We are a true family, we love each other and it shows the good guys win."
Funnyman, Samberg is "happy" and "proud" of the show and all that he brings to the table. He did admit that he misses some of his old days on "Saturday Night Live."
"I'll probably miss it until I die, just the immediacy of it," he said. "I don't miss the schedule, I don't miss the expectations but I miss knowing that if I think of something that is funny people will be seeing it in my case within 24 to 48 hours and everyone will be checking it out and paying attention to it and talking about it. There is something very intoxicating about that but there are pluses and minuses to everything."