'America's Got Talent' stunt goes wrong on live TV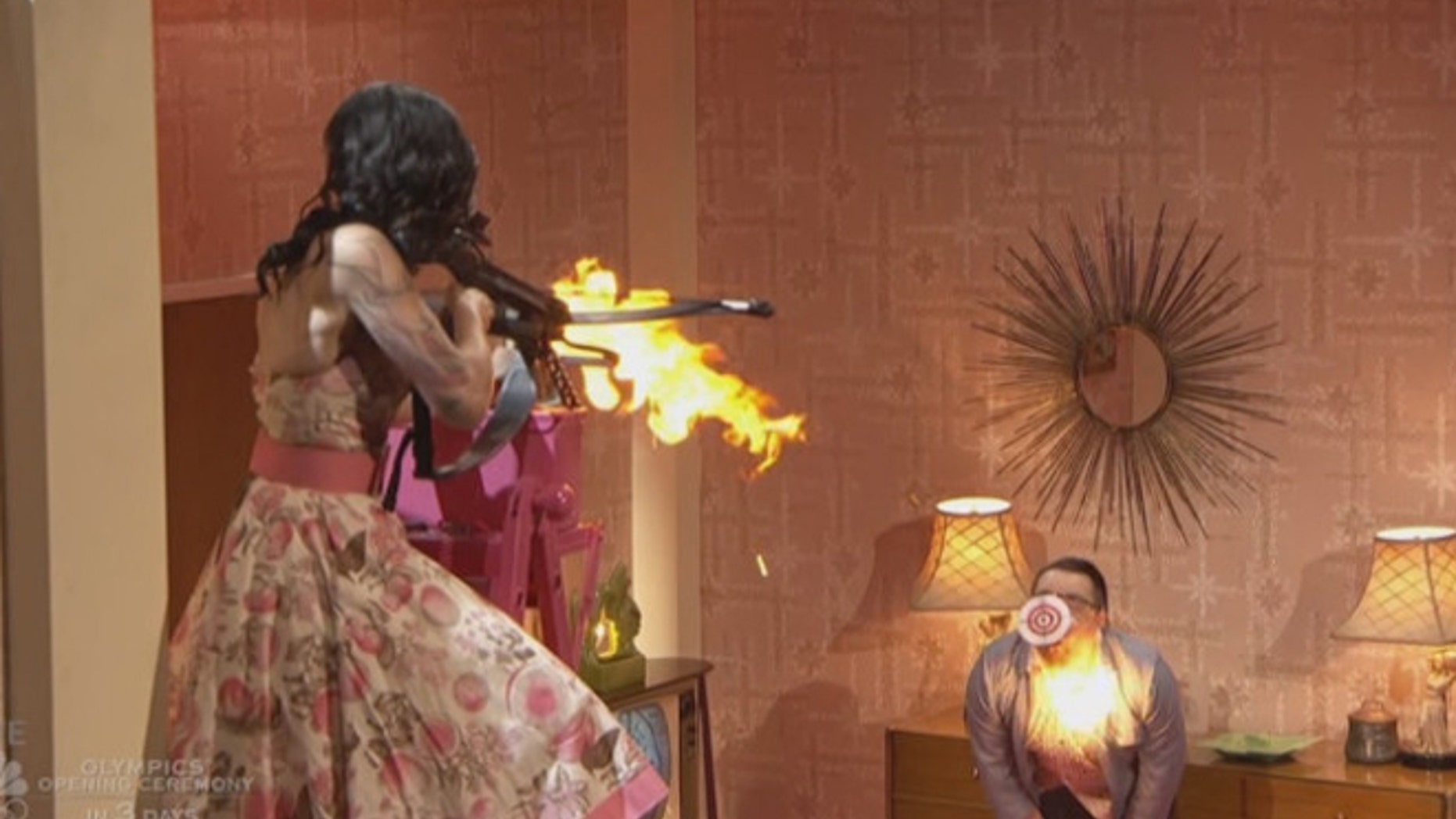 Things nearly turned deadly Tuesday night on "America's Got Talent."
Ryan Stock, a Canadian daredevil and sword swallower, was fortunate to walk off the stage after being shot in the neck with a flaming arrow — by his fiancee.
Amber Lynn Walker was supposed to hit an approximately eight-inch target held in the Canadian stunt man's mouth, but things didn't go quite as planned.
The mishap, televised live on NBC, left judges Howie Mandel, Mel B., Heidi Klum and Simon Cowell in shock as Stock appeared to gag and cower in pain.
"I'm OK. It got my shirt. I'm OK," he eventually assured the silenced crowd.
But that wasn't enough for judge Howie Mandel who urged the contestant to seek medical attention.
Judge Simon Cowell, who created the program and serves as Executive Producer, was also visibly concerned: "Why are we judging this act?" he asked. "Amber just shot Ryan and he needs to go to a hospital now."
After a commercial break, host Nick Cannon assured viewers that Stock was examined by on set EMTs and appeared to be fine.
"We had a serious mishap tonight..." Stock tweeted after the broadcast. "A very unfortunate mechanical failure but I am very fortunate to walk away from it."
Ryan and Amber Lynn were one of twelve acts competing for America's votes.
Seven will advance to the next round of the competition.
Among the most likely to move on:

CALYSTA BEVIER (singer)
The teenage cancer survivor made Cowell proud by putting her own spin on the Sara Bareilles mega-hit "Brave."
"Finally someone comes on this stage and just owns it from start 'til end," Mel B. raved.
KADIE LYNN (singer)
The 12 year-old phenom hit a home run with her cover of Maren Morris' "My Church"
"I think we found ourselves a little superstar here. You are what we called made in the USA," Cowell praised.
THE CLAIRVOYANTS (mentalists)
No one can quite figure out how this act works.  For their third — and most incredible performance yet — Amelie somehow is able to guess how many jelly beans Mel B. scoops out of a jar. Better still, she has it, and other seemingly impossible to predict facts, pre-written on a blackboard.
"You are aliens from another planet," Cowell declared. "This is more than magic. This is the creepiest thing I have ever seen in my entire life. You two are incredible."
Results of America's votes will be revealed Wednesday night.
"America's Got Talent" airs Tuesdays and Wednesdays on NBC.