'American Idol': Paul Jolley sent packing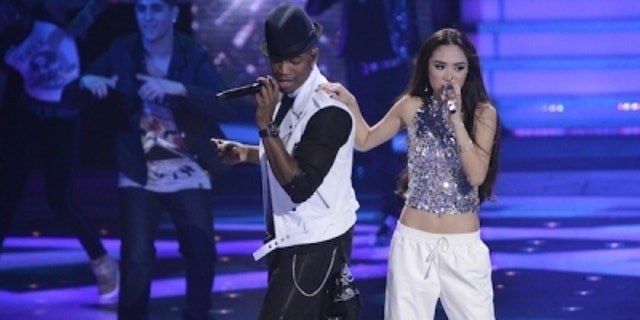 "American Idol" sent another man home Thursday night when Paul Jolley landed at the bottom of the list. The FOX show abandoned its results ranking system, introduced last week, and instead opted for a direct line to the Bottom 3.
Devin Velez finds himself in the hot seat again after last week's bottom two showing. Also on the bottom? Amber Holcomb, who placed in the Top 3 of Jimmy Iovine's personal picks list. Her performance of "She's Leaving Home" was one of Wednesday night's strongest vocals. I totally disagreed with the judge's comments, suggesting she wasn't "enjoying herself."
When the results come in, the judges seem shocked to see her on the bottom. "I definitely think Amber should not be in the bottom three," says Nicki Minaj. "That's common sense." Maybe she should watch what she says! America is listening.
The results show isn't all doom and gloom; as three guest performers hit the "Idol" stage. Season 10 alum, Casey Abrams sings "I Saw Her Standing There," same as Amber's Wednesday night pick. I'm wondering why we have to hear this song again. I'm also wondering if Casey has showered lately. He certainly doesn't look like he's trying to launch an album, or gain a following.
Season 11 standout, Jessica Sanchez, debuted her new single, "Tonight," with Ne-Yo. She also reveals she'll soon be on "Glee" and release her debut album, "Me, You & The Music," on April 30.
The five female finalists perform The Beatles' "Here, There And Everywhere" and the four remaining males tackle Earth, Wind & Fire's "Got To Get You Into My Life."
The first three women to learn they are safe are same as last week: Kree Harrison, Candice Glover, and Angie Miller. Next to head to the winner's circle is Janelle Arthur, whose Wednesday night turn at "I Will" was one of her best showings this season.
That leaves Burnell Taylor and Amber, two of my favorites, on the chopping block. Again, I'm shocked it has come to this. I thought Burnell's rendition of "Let It Me,' was flawless. When Ryan Seacrest says Burnell is safe, I'm equal parts relieved for him and terrified for Amber.
Thank goodness, my fears are quickly squelched when Ryan says Paul Jolley is heading home.
He picks Heart's "Alone" as his sing-for-your-life selection. It's not enough to earn him the judges' save. "Unfortunately, Ryan, it's not unanimous, no," laments Randy Jackson. "Thank you, Paul, good luck."
Short and sweet.