American Idol: Jennifer Lopez Glows as New Season Premieres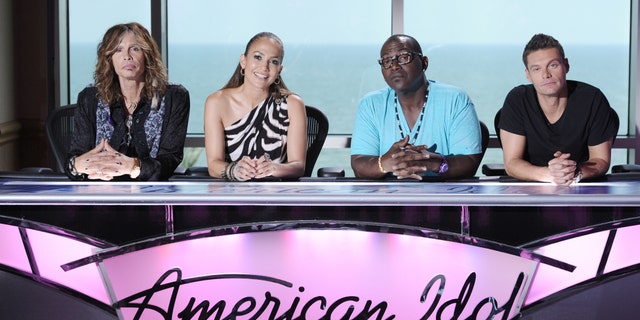 Jennifer Lopez got back to her judging duties on American Idol and she sure looked good doing it!
The Puerto Rican diva glowed as she talked about finding that special someone on the hit show, which debuted its 11th season Wednesday night.
"You always have high hopes that today will be the day when you will find the one," said Lopez. "You never know."
The first auditions were held in Savannah, Georgia, where 10,000 hopefuls showed up to convince Lopez and her fellow judges, rock icon Steven Tyler and music producer Randy Jackson, their musical abilities are worth being sent to Hollywood for.
"I'm so happy to be back with Steven and Randy" Lopez added. "They are like family now."
American Idol host Ryan Seacrest stressed that last season's winner, Puerto Rican country crooner Scotty McCreery left "big shoes to fill."
Scotty Wins First Latino American Idol
Nonetheless, the first contestant was confident he could deliver.
David Leathers Jr., a.k.a. "Mr. Steal your girl" as he is called, blew the judges minds away with his unique tone, which Jackson said reminded him of "a young Michael [Jackson.]" He sang "Remember the Rain" by Century 21.
Surprisingly enough, Leathers and McCreery's paths have crossed before as they "squared it off" at a local singing competition a few years back.
American Idol Top 10 Latino Moments
"It was a tough competition but I came out on top," said Leathers, who like McCreery is also a North Carolina native.
Like Leathers, 16-year-old Gabrielle Carrubba left the judges smiling and had them giving three yes's instantly.
The Connecticut native certainly impressed JLO, who called her a "natural."
Other notable contenders included Shannon Magrane, whose father Joe Magrane pitched for the Cardinals during the World
Series in 1987, and Lauren Mink, who cares for adults with disabilities such as Alzheimers and autism. They both made it to the next round and are going to Hollywood.
Then there was Amy Brumfield, the Tennesse "hipsy" chick as Lopez called her, who lives in a tent in the woods with her significant other due to financial hardship. For Brumefiled, going to Hollywood is a matter of more than just a dream. She left the judges speechless (for all the right reasons) when singing Alicia Keys' "I am Super Woman."
"I would rather be outside and happy than indoors and miserable," Brumefield said when discussing her financial hardship.
JLO thought she delivered.
"Its pretty," said Lopez of Brumefiled's singing as Tyler added "Out of a tent and into Hollywood!"
Reminiscent of last year, Lopez and her fellow judges could not escape the bad auditioners who screamed, yelled, and cried upon rejection. As for JLO, no tears… yet.
"You're sweet and cute but the voice is not up to part with what we are trying to do this year," Lopez said told Joshua Chivis in an attempt to let him down easy. "But, you got all those other things going for you."
Jackson wasn't as sweet.
"Terrible," he told Chavis, who of course disagreed.
Lastly, there was Phillips Phillips (that is in fact his real name) who Jackson called "a true artist." Lopez agreed saying that the singer is "very special."
"It's like you have electricity going through your body," said Lopez.
"Not something you see every day."
Philips crooned to Stevie Wonders' "Superstitious," and a country version of Michael Jackson's "Thriller" leaving the judges clapping and cheering.
"Everybody [will] stop and stare," Lopez said. Tyler said he reminded him of last season's contestant Casey Abrams.
"It's Casey with a lightning rod," said Tyler.
On Thursday the auditions continue on in Pittsburgh.
You can reach Alexandra Gratereaux at: Alexandra.Gratereaux@foxnewslatino.com or via Twitter: @GalexLatino
Follow us on twitter.com/foxnewslatino
Like us at facebook.com/foxnewslatino