Alma Awards: A Touch of Music, Politics and Olympic Gold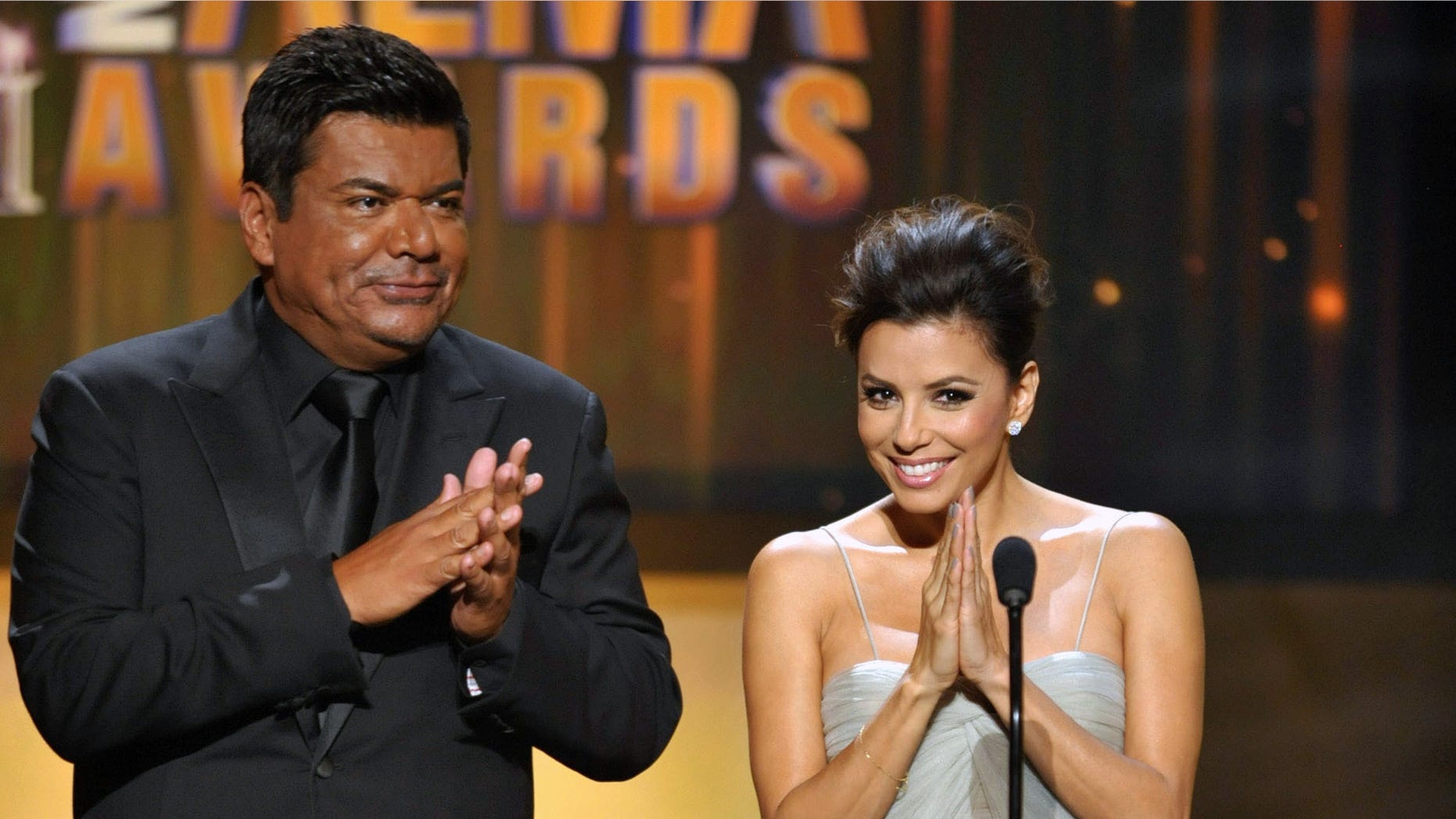 The NCLR Alma Awards were filled with humor, fashion and many hip-shaking moves.
Comedian George Lopez displayed his comedic edge Sunday night as he co-hosted the show with Eva Longoria.
The show, which honors Latinos in TV, film, music and sports, was taped at the Pasadena Civic Auditorium in Los Angeles, Calif., on Sunday and will air on Friday, September on NBC.
Lopez poked fun at Olympic Gold medalist Ryan Lochte, who was honored along with five other 2012 Latino Olympians.
"Your mom is Cuban? Now the swimming makes sense," Lopez joked.  He also poked fun at actor Cheech Marin who received an Outstanding Career Achievement Award, claiming the actor was going to turn his award into a bong.
The Alma Awards has been organized by the National Council of La Raza since 1995, and strives to promote the positive portrayals of Latinos in the entertainment industry.
During the show, rap sensation Flo Rida got the audience dancing with his hit song "Whistle."
The Miami native also performed a duet with actress Roselyn Sánchez, who showed off her toned legs in a short silver dress. Other musical performances included a duet with Puerto Rican singer Luis Fonsi and country singer Martina McBride.
Longoria, who is also a producer of the show, kept the audience on their toes as she dazzled in multiple outfit changes throughout the ceremony.
During the frenzy on the red carpet, Longoria told Fox News Latino she enjoyed juggling multiple duties.
"As a producer it's a lot of work," Longoria said. "It's not only being the host, but booking the show [and] producing the show," she said adding that at the end of the day she "loves it."
Christina Aguilera proudly showed off her curves in a tight black dress, as she was honored with a Special Achievement Award for her career and philanthropic work.
"It means so much to be here, in this situation like this today, where I'm being honored for my humanitarian efforts, and using my voice in that way for good," said the singer.
Glee Alum Naya Rivera took home two awards, one for favorite TV actress-comedy and a second for favorite female music artist.
The young performer recently signed with Elton John's music management company and told the press backstage that she is currently working on a new album.
Mexican actor Diego Boneta won the ALMA Award for favorite movie actor for his work in "Rock of Ages."
"I want to thank all the Latinos who come to this country to seek dreams, this is for you guys, you're my inspiration," Boneta told reporters after the ceremony.
After five nominations, Constance Marie received her first ALMA Award in the favorite TV actress in a supporting role category for her work in "Switched at Birth."
"I was becoming the Susan Lucci of the Almas!" Marie quipped.
Other winners included Rico Rodríguez, who won favorite TV actor in a supporting role for his role in "Modern Family," and Cierra Ramírez, who took home an award for best supporting actress for her role in "Girl in Progress."
Being that it's an election year, the ALMA Awards also took on a political tone.
Presidential candidates Barack Obama and Mitt Romney had special taped messages congratulating the nominees. Another segment during the show also highlighted the importance of the Latino vote.
Zoe Saldana, who won the favorite actress drama/adventure award for her work in "Colombiana," got emotional on stage, tearing up as she thanked her family for their continued support and Director Luc Besson for "creating roles actors can sink their teeth into."
The tone went from the political to the emotional. There was a heartfelt tribute to the late legendary actress Lupe Ontiveros, who died of liver cancer. Ontiveros played Eva Longoria's suspicious mother-in-law in the ABC series "Desperate Housewives" but also had memorable roles in movies such as "Selena" and "As Good as it Gets."