Alec Baldwin lampoons Donald Trump again on 'SNL'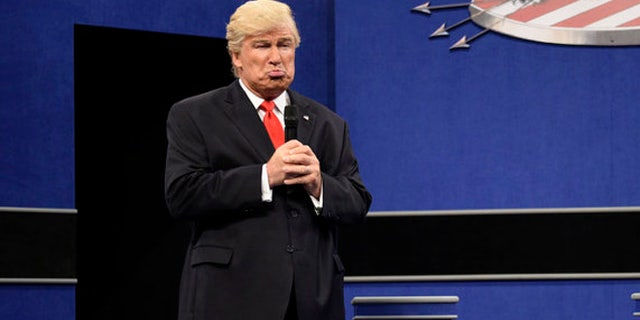 "Saturday Night Live" went after Donald Trump yet again over the weekend, with Alec Baldwin reprising his celebrated impression of the president-elect to lampoon Trump's penchant for retweeting random teenagers.
In the new episode's cold open, Pete Davidson plays high schooler Seth Morton, whom Trump recently found the time to retweet in between learning what a president is supposed to do.
"I just retweeted the best tweet. I mean, wow, what a great smart tweet," Baldwin's Trump explained to Kate McKinnon's Kellyanne Conway.
"I really did retweet him, seriously," Baldwin's Trump reiterated, looking directly into the camera to break the fourth wall.
"He really did do this," McKinnon's Conway added to the camera.
WATCH: Alec Baldwin Returns to 'SNL' As an Overwhelmed Donald Trump, Gets a Visit from Jason Sudeikis' Mitt Romney
"It was from a young man named Seth, he's 16 and he's in high school and I really did retweet him," the president-elect continued. "Seth seems so cool his twitter bio says he wants to make America great again. It also says he loves the Anaheim Ducks."
All this goes on while Trump's transition team and advisers are trying to explain the nuances of international diplomacy. However, it's hard for Trump to pay attention when he's so busy finding random people to retweet.
In her on-going attempt to begrudgingly explain away all of Trump's questionable behavior, McKinnon's Conway explained that Trump tweets so much to "distract the media from his business conflicts and the scary people in his cabinet."
"Actually that's not why I do it," Trump replied." "I do it because my brain is bad."
WATCH: Alec Baldwin Opens Up About Playing Donald Trump on 'SNL': 'He's Not Somebody I Admire'
In real life, the 70-year-old business man appeared to be watching Baldwin's impression, and ignoring the existence of irony all together, he immediately jumped on Twitter to slam SNL for mocking his propensity for over-using the social networking platform.
"Just tried watching Saturday Night Live - unwatchable!" Trump tweeted. "Totally biased, not funny and the Baldwin impersonation just can't get any worse. Sad."
WATCH: Donald Trump Not Pleased With 'Saturday Night Live,' Says Alec Baldwin's Impression 'Stinks'
Morton himself jumped on the opportunity to capitalize on his 15 minutes of fame by responding to Trump's tweet, agreeing, "Agreed, very unfunny! Regardless, thank you for retweeting me, and giving me the opportunity to be mentioned on SNL - @realDonaldTrump."