Alec Baldwin Arrested In NY For Riding Bike Wrong Way, Goes On Twitter Rant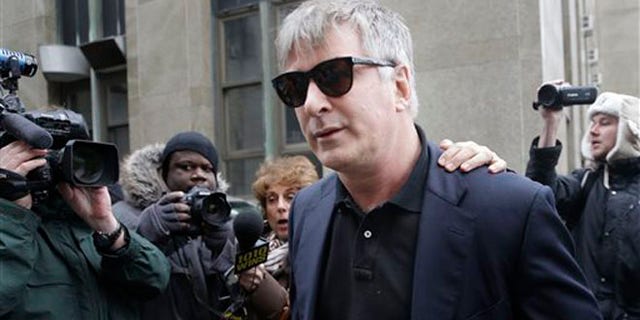 Actor Alec Baldwin is once again having some trouble with the law.
The 56-year-old was arrested and issued two summonses Tuesday after allegedly acting belligerently toward officers who had stopped him for riding his bicycle the wrong way down New York City's Fifth Ave.
The "30 Rock" star was pedaling near Union Square Park in Manhattan when he was stopped at about 10:15 a.m. and asked to show identification, police said.
Baldwin reportedly refused to show his ID and acted belligerently, prompting the officers to handcuff him and take him, and his bicycle, to a nearby precinct. The actor was issued two summonses – for riding a bike the wrong way and for disorderly conduct – before he was released, police said.
He is scheduled to appear in Manhattan Criminal Court on July 24. A representative for Baldwin did not immediately return request for comment, but the actor took to Twitter to vent his frustrations.
"Officer Moreno, badge number 23388, arrested me and handcuffed me for going the wrong way on Fifth Ave," he tweeted. "Meanwhile, photographers outside my home ONCE AGAIN terrified my daughter and nearly hit her with a camera. The police did nothing."
He continued: "New York City is a mismanaged carnival of stupidity that is desperate for revenue and anxious to criminalize behavior once thought benign."
Baldwin's wife, Hilaria Baldwin, also took to social media in response to the onslaught of photographers that were outside their home. She posted a video on Instagram, captioning it: "Wanna be a celebrity? Enjoy."
The Oscar- and Tony-nominated-actor is known for his incendiary temper, most notably exposed when a voicemail of him berating his now-teenage daughter, Ireland Baldwin, came to light in 2007. He later said the message horrified him.
He was kicked off a plane in 2011 after refusing to stop playing a cell phone game, and he's gotten into confrontations with news photographers.
In February, Baldwin wrote a New York magazine cover story decrying the constant tabloid coverage of his comings-and-goings in New York City, saying he "probably" needs to move out of the city and suggested he may soon be calling Los Angeles home.
Based on reporting by The Associated Press.
Follow us on twitter.com/foxnewslatino
Like us at facebook.com/foxnewslatino