Al Gore sued over sale of Current TV to Al-Jazeera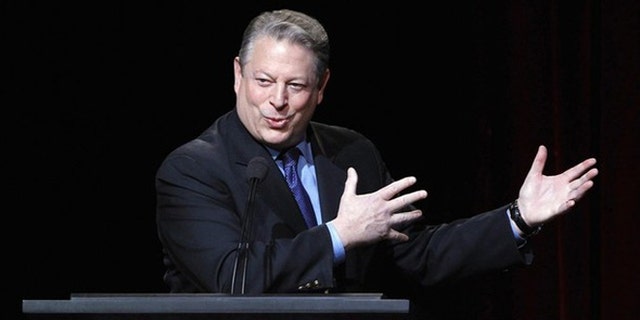 SAN FRANCISCO – A television consultant claims that former Vice President Al Gore and others at Current TV stole his idea to sell the struggling network to Al-Jazeera.
Los Angeles resident John Terenzio is demanding more than $5 million in a lawsuit quietly filed in San Francisco Superior Court Tuesday.
Al-Jazerra announced Jan. 3 that it would pay $500 million for San Francisco-based Current TV.
Terenzio alleges he first brought the idea of the Qatar-owned Al-Jazeera's purchase of Current TV to board member Richard Blum in July, and he expected to be paid if his plan was used. The lawsuit claims Blum was open to the plan, which Terenzio laid out with a detailed PowerPoint presentation but feared Gore would find such a deal with the oil-rich government of Qatar "politically unappealing."
Neither Gore or Blum, nor their representatives, could be reached for comment late Wednesday.
Gore co-founded Current TV in 2005 with Joel Hyatt, with each receiving a 20 percent stakes in Current, a politically left leaning news and talk network. Comcast Corp. had less than a 10 percent stake. Another major investor in Current TV was supermarket magnate and entertainment industry investor Ron Burkle, according to information service Capital IQ.
Blum, a venture capitalist and husband of California Sen. Dianne Feinstein, is also an investor in Current TV.
Terenzio claims he presented to Blum "a step-by-step approach for making the sale of the liberal media outlet to Al-Jazeera palatable to U.S. lawmakers, pro-Israel factions, cable operators and, most importantly, the American public."
Terenzio claims he created the English version of China Central Television and reprogrammed it for American audiences. He said he planned to use the same strategies in rebranding Current TV into Al-Jazeera America.
"Blum greeted Terenzio's proposal with enthusiasm, indicating that he and other investors were eager to salvage their multi-million investment in the floundering cable network," Terenzio claims in his lawsuit.
Terenzio said he believes Gore did turn down the deal in July and was "adamant" in rejecting it.
Terenzio's attorney, Ellyn Garofalo, said an "insider" told her client of Gore's rejection but refused to identify that person in a brief email interview Wednesday night. Garofalo represented Dr. Sandeep Kapoor when a jury acquitted him of illegally funneling prescription drugs to Anna Nicole Smith.
Terenzio said Al-Jazeera's January announcement of the sale was the first he heard of it.