ACMs pay tribute to late country singer Joey Feek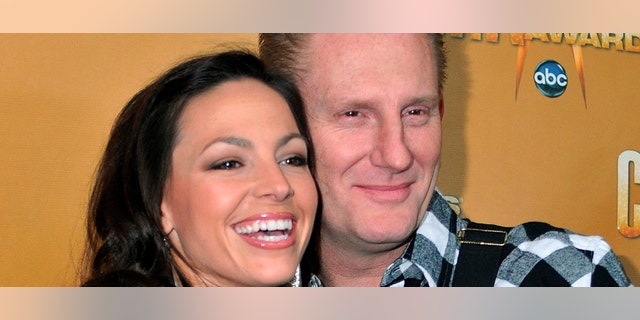 NEWYou can now listen to Fox News articles!
The 2016 ACM Awards took a moment to pay tribute to the life and legacy of Joey + Rory singer Joey Martin Feek, who died in March after a long battle with cancer.
Darius Rucker and Martina McBride led the way in remembering the singer as her family watched from home.
Only daughter Hopie made the trip to Las Vegas for the 2016 ACM Awards. Rucker and McBride kept it short, asking the fans in the room to stand and applaud for Feek one last time. Their biggest commercial hit "Cheater Cheater" played in as the crowd came to their feet.
The beloved singer passed away on March 4 after battling cancer for much of the past two years, and she was laid to rest on the couple's farm in Pottsville, Tenn., on March 8 in a private service. On March 13 gospel legends Bill and Goria Gaither, who were longtime friends of Joey + Rory, hosted a pubic memorial service in Joey's hometown of Alexandria, Ind., where the singer chose to spend the final days of her life in hospice, surrounded by the people she was closest to in the world.
Joey's valiant battle with cancer touched and inspired fans from all over the world, as she faced her last days with a strength of character, faith and dignity that is not often seen. Rory shared their triumphs and heartbreaks via social media and his blog, This Life I Live, in the hopes that their story could help inspire others … and did it ever. Though she died tragically young at the age of 40, Joey's memory is alive and well in the hearts and minds of country music fans everywhere, as was in evident at the 2016 ACM Awards.