ABC boss Ben Sherwood was quick to take credit for success of 'Roseanne,' but will he take blame?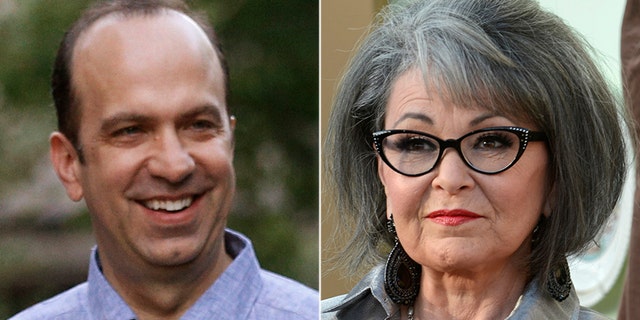 NEWYou can now listen to Fox News articles!
Embattled ABC boss Ben Sherwood was quick to pat himself on the back for having a surprise hit in the return of "Roseanne," but now TV observers are asking what the Disney honcho was thinking when he hired back Roseanne Barr — who for years has been well known for offensive comments and distinctly un-Disneylike behavior -- for the high stakes remake.
On Tuesday, ABC pulled the plug on the wildly popular reboot of "Roseanne" after its namesake posted a racist and offensive tweet about former President Obama's aide and close friend Valerie Jarrett. Disney chairman and CEO Bob Iger tweeted that "There was only one thing to do here, and that was the right thing," after ABC Entertainment President Channing Dungey announced the show would be canceled.
Barr has a long history of controversial rhetoric and once even posed dressed as a Nazi.
But her often offensive behavior was, until Tuesday, a point of pride for Sherwood in interviews he gave after the premier of the "Roseanne" reboot was a surprise ratings smash. Sherwood claimed credit for seizing on the political moment and reaching out to Donald Trump voters, as Barr's character supported President Trump.
He told The New York Times that on the morning after Trump defeated Hillary Clinton, "we looked at each other and said, 'There's a lot about this country we need to learn a lot more about, here on the coasts.'"
As for Barr's history of controversial comments, "You can't control Roseanne Barr," Sherwood told The New York Times in a different interview when asked about her Twitter account. "Many who have tried have failed. She's the one and only."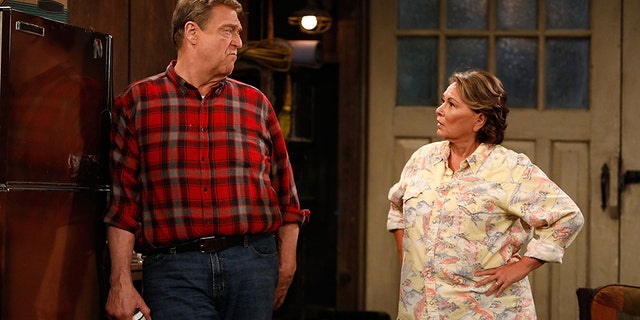 After the shock cancellation, HLN's S.E. Cupp penned a column Tuesday that said, "ABC falsely believed they hired Roseanne the Character — a blue collar everywoman who was sharp-tongued but fun-loving and, yes, a Trump supporter. But what they got was Roseanne the Person, who is, to put it politely, a nutjob."
Cupp asked, "What's their excuse for hiring her again? Remember, this is a woman who was an early supporter of birtherism, has compared Muslims to Nazis, took to Twitter regularly to attack citizens both private and public, floated wild conspiracy theories and bullied Trump opponents with racist, homophobic and anti-Semitic insults... How did ABC think would this go? "
But earlier this month at ABC's upfront presentation to advertisers, when the network raked in huge amounts of advertising dollars for the next season of "Roseanne," "Ben Sherwood was crowing," Variety's Dan Holloway wrote.
"The Disney-ABC Television Group president kicked off his upfront pitch to advertisers by bragging about revived multicamera comedy 'Roseanne,' whose star Roseanne Barr had just introduced him on stage," Variety continued. "It was the first time in 24 years that ABC had been home to the No. 1 show — a fact, Sherwood joked, that ABC had neglected to share with ad buyers for the past 24 years."
Columbia journalism professor Bill Grueskin told Fox News that ABC executives should have seen this type of lewd remark coming from Barr.
"I'm old enough to remember when, while opening a Padres game, she followed her rendition of the National Anthem by grabbing her crotch and spitting on the field," Grueskin said. "I think everyone knew what they were getting."
Mediaite columnist Joseph Wulfsohn echoed Grueskin's comment.
"It's no secret that Roseanne Barr has had a questionable Twitter history from goofy posts to retweeting conspiracy theories. So going into the show's revival, they must have known her Twitter activity could have been a liability for the show," Wulfsohn told Fox News.
Before "Roseanne" rocked the ratings, Sherwood had widely been believed to be on the way out at ABC amid perennially low ratings and a creative drought, industry insiders told Fox News. And now that "Roseanne" has imploded, industry insiders are asking why Sherwood didn't realize he'd placed a ticking time bomb at the heart of ABC's schedule — and strategy.
"He took all the credit. Now the decent thing he should do is resign and let us move past this," an ABC insider, who asked to remain anonymous, told Fox News.
Barr has been controversial on social media for quite some time and her ex-husband Tom Arnold claims he is "banned" from ABC for warning network executives about her racist behavior.
The end came Tuesday after Barr, who'd spent the morning falsely linking Chelsea Clinton by marriage to George Soros, sent a series of racially charged tweets, including one that said Jarrett, who is African-American and born in Iran (to an American couple living abroad), is like the "Muslim brotherhood & planet of the apes had a baby."
It led to an almost immediate mea culpa, and a vow to never tweet again.
"I apologize to Valerie Jarrett and to all Americans. I am truly sorry for making a bad joke about her politics and her looks. I should have known better. Forgive me — my joke was in bad taste," she tweeted, after writing she was quitting Twitter.
Sherwood's deputy, ABC Entertainment chief Dungey, had recently said that Barr didn't want to overshadow the show with her political rhetoric and she even promised a new approach to social media. "I do hope that she will continue to be thoughtful about what she shares on social moving forward," she said.
Aside from the surprise success of the now-canceled "Roseanne," ABC -- part of the reliably liberal Disney ABC Television Group -- has little to point to when it comes to programming to Middle America and to the viewers who put Trump in the White House, and neither does fellow Disney network ESPN.
Critics have pointed out that several Disney stars have been given a pass for left-leaning slurs. ESPN's Keith Olbermann regularly refers to President Trump as a "Nazi," Joy Behar recently came under fire for mocking Vice President Mike Pence's Christian faith and ESPN's Jemele Hill famously called Trump a "White Supremacist."
"Shouldn't a company as big as Disney have a coherent and consistent standard when it comes to policing online speech by employees? As is, the standard is simple, left wingers can say whatever they want, right wingers get fired," talk radio host Clay Travis tweeted.
Fox News' Sasha Saavitsky contributed to this report.