'22 Jump Street' narrowly edges out dragons in box office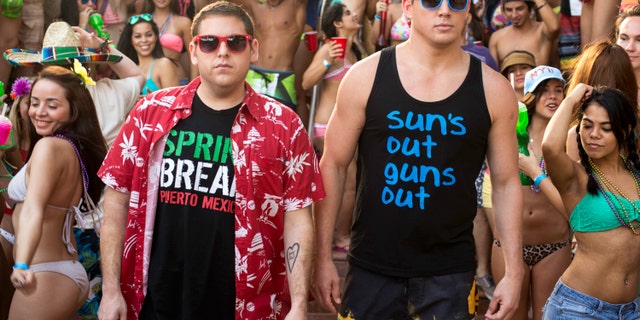 "22 Jump Street" edged out "How to Train Your Dragon 2" to capture the weekend box office crown as the two hotly anticipated sequels swooped into multiplexes just in time for Father's Day reports Variety.

The undercover cop comedy reunited Jonah Hill and Channing Tatum, but had the two leads matriculate to college to the tune of $60 million across 3,300 locations. Its opening is the second biggest for an R-rated comedy in history, right behind "The Hangover Part II" ($85.9 million) and just ahead of the first "Sex and the City" ($57 million) cinematic adventure.
"How to Train Your Dragon 2″ nipped at Hill and Tatum's heels, soaring to $50 million from 4,235 locations. Going into the weekend, most analysts predicted that the DreamWorks Animation film would be the highest grossing film of the weekend, but "22 Jump Street" was able to offer up enough pop culture references and rowdy hijinks to bring in older audiences. It also didn't deviate from the formula that made "21 Jump Street" a standout in 2012, bringing back not only the stars, but directors Phil Lord and Christopher Miller.

"All the stars were aligned for us," said Rory Bruer, Sony Pictures president of worldwide distribution. "We had great reviews, great stars, audiences loved it and Lord and Miller know funny and executed beautifully."

"22 Jump Street" nearly doubled the $36 million debut of the original film. It played well to both genders, with an opening weekend audience that was evenly divided among males and females. More than half of the audience was under 25, with 44% aged 25 and over.

The film continues the strong run that R-rated comedies have had at the summer box office, a legacy that includes "Ted," The "Hangover" pictures and last May's "Neighbors."

Bruer suggested that R-rated comedies are popular of late because with an ample dose of four-letter words and innuendo, "they're very relevant to how people actually speak and the things that make them laugh."

The Columbia Pictures and Metro-Goldwyn-Mayer film carries a production budget in the high $50 million range when rebates are taken into account. "How to Train Your Dragon 2″ cost $145 million to produce and was distributed by 20th Century Fox as part of a pact with DreamWorks Animation.

Among the holdovers, last weekend's breakout champ "The Fault in Our Stars" fell sharply, dropping 67% to $15.7 million. Still with a domestic cumulative gross of $81.7 million, this $12 million production, may end up with summer's most enviable profit margins.

"Edge of Tomorrow" seemed to benefit from positive word-of-mouth and reviews, falling 44% to $16.1 million, although with a price tag of $178 million, its $56.3 million domestic haul still ranks as a disappointment.

"Maleficent" also showed impressive legs. Despite facing a challenge on the family front from "How to Train Your Dragon 2," the fantasy adventure hung on to rack up another $19.8 million. Its domestic total now stands at $164 million, and globally the re-imagining of the "Sleeping Beauty" tale took in an estimated $56 million. With a global haul of $436 million, "Maleficent" now stands as Angelina Jolie's second highest grossing live-action movie of all-time, behind "Mr & Mrs Smith" ($47 million).

In its fourth week of release, "X-Men:Days of Future Past" took in $9.7 million, driving its domestic total to $205.9 million. It's one of the few summer tentpoles to have passed $200 million stateside, with film such as "Godzilla" ($191.3 million) and "The Amazing Spider-Man 2″ ($198.4 million) huffing and puffing their way past that benchmark. Hot and fast is the typical burn rate at the box office of late.

Among specialty films, Open Road's "Chef" grossed $2.2 million in 1,100 locations, pushing its total to $14.1 million. Nearly a month before its domestic debut, Richard Linklater's "Boyhood" snagged $468,000 in such foreign territories as Germany, Austria and Switzerland, bringing its total to $1 million.

If the estimates hold, the weekend box office will be down roughly 7% from last year when "Man of Steel" muscled its way to a $116.6 million opening.