Yoenis Cespedes' sick ride is the talk of Mets camp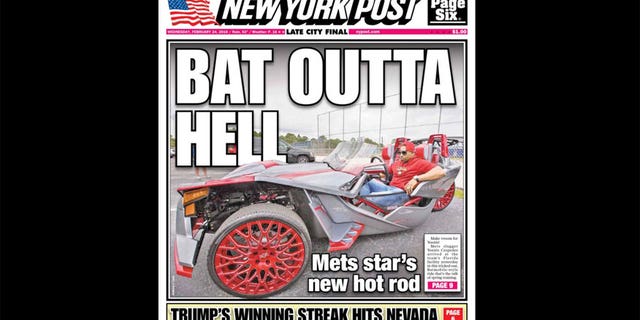 Mets slugger Yoenis Cespedes rolled into Tradition Field in Port St. Lucie on Tuesday in an eye-grabbing Batmobile-style vehicle you might expect in the Dark Knight's parking spot (Matt Harvey already has a six-figure Maserati, though).
The three-wheeled Polaris Slingshot motorcycle was customized by The Auto Firm in Miami, and emblazoned with Cespedes' No. 52 on the hood.
"Guys love toys," Mets manager Terry Collins said. "Some people like technology stuff, he likes cars. It's cool, huh?"
Various models of the swagged-out tricycle retail online for $21,499 and up — before Yo's modifications took the total price tag up to a whopping $68,000.
Alex Vega, who runs the Avorza brand and The Auto Shop, said his company stripped the motorcycle down to its bare bones and rebuilt it according to Cespedes' specifications.
That includes: a paint job in metallic red and graphite gray; custom-made seats with carbon-fiber leather; specially manufactured forged wheels; and a tricked-out air suspension that lifts the bike up to six inches off the ground and as low as a quarter-inch from the ground.
The dashboard houses a nine-inch screen with bluetooth, video and GPS navigation, and the whole vehicle is integrated with a 12-speaker sound system. There are LED lights throughout that change color and a custom exhaust system.
Read more from The New York Post
----------
FoxNews.com's Gary Gastelu drives the Slingshot