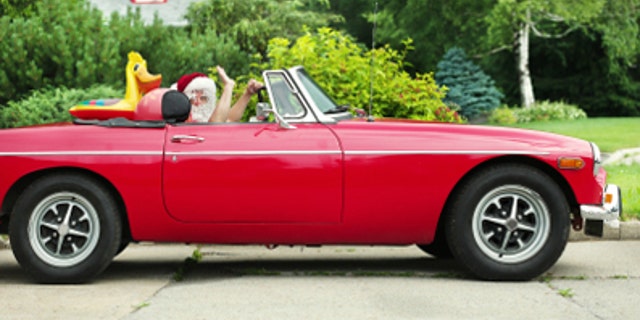 The way things are going, you know that even Santa is going to have to upgrade his ride eventually in order to meet increasingly stringent government regulations around the world.
Don't think so? Just take a look at that sleigh.
No airbags, no rollover protection. It doesn't even have bumpers.
Those reindeer? Where are the catalytic converters? Believe us, they are not zero emissions propulsion systems.
And, sure, Rudolph's nose may be bright, for braking, but when was the last time you saw a red headlight? You haven't, because they are not legal…anywhere.
Aside from all of that, with all of the solar panels in use these days, not all rooftops are the secure landing zones that they used to be.
So what's a jolly old elf supposed to do?
In the spirit of peace on Earth, goodwill toward men and choosing the perfect car, here are a few four-wheel suggestions for Saint Nick. For those of you worried that none of them can fly, remember that the ethanol used in E10 fuel can be made from the same magic corn that Donner, et al. eat, so get ready to dash away all!
Subaru Impreza 5-Door
Practically the official car of New England – which might as well be The North Pole – the Subaru Impreza is a no-brainer. At 36 mpg highway it is the most fuel-efficient all-wheel-drive vehicle in America, and with a starting price of around $18,000, the perfect fit for these frugal times.
OK, so it doesn't snow everywhere on Christmas. Southern California, for instance. Out there, they like their hybrids. No worries. The $27,000 Toyota Prius V offers twice the cargo room of the standard Prius and still gets 42 mpg. Maybe Santa will even pass the fuel savings on to you in the form of better presents.
Of course, if Santa is in as much of a last-minute rush as everyone else is, there is a solution. The $66,000 Cadillac CTS-V Wagon comes packing a 556 hp supercharged V8 and has a top speed of over 190 mph. While we can't help but suggest the sparkly Black Diamond paint, Crystal Red is probably more Santa's speed.
Ferrari FF
Then again, Santa has been at this a really long time. He deserves a little indulgence, doesn't he? The Ferrari FF was practically made for him. It has all-wheel-drive, plenty of cargo room and, no surprise, looks fantastic in red. But with a price in excess of $350,000, you might want to think about leaving something instead of cookies for him this year.
Read: Ultimate Winter Driving Experiences