Toyota Prius Plug-In Hybrid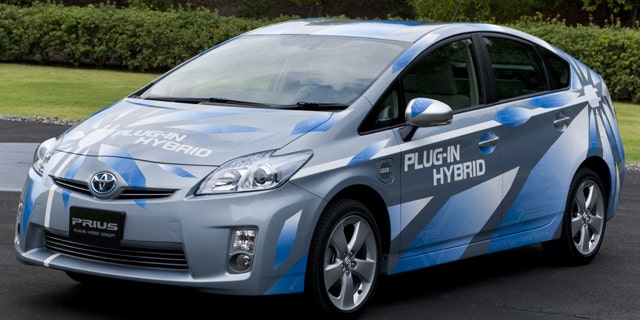 When General Motors set out to build the Chevrolet Volt, it had one goal in mind above all else: give Toyota nightmares.
Fed up with watching the Prius cruising along as the vehicular darling of the environmental set, GM launched the automotive equivalent of a moonshot program, hoping to steal the spotlight with a next-gen hybrid that could be plugged-in to the electrical grid, increasing fuel efficiency to unheard of levels via the ability to run as an electric car part of the time. To complete this mission, its engineers developed a complex, all-new powertrain that is truly like nothing else on the road today.
But if they wanted to make a semi-electric car, why go to all the trouble? Wouldn't it have been easier just to put a larger battery on an existing hybrid and call it a day? Well, aside from hoping to impress everyone with its new creation, GM didn't really have one of those at the time. At least not one with an electric motor that was both small enough and robust enough to be used as the primary propulsion system for a compact car, like the one in the Prius.
Clearly this logic wasn't lost on the folks at Toyota, because they plan to introduce the Prius Plug-In Hybrid later this year, which -- surprise, surprise – is little more than a Prius with a bigger battery pack. Now who's waking up screaming at night?
Still in the final stages of development, Toyota has unleashed a small fleet of demonstration vehicles into the wild to collect real-world data as it puts the finishing touches on its new creation. We snagged the keys to one for a few days.
Aside from the garish exterior graphics on the test car to advertise what it is, the only obvious difference between the Prius Plug-In and the standard model is the addition of a door covering the charge port on the left front fender. Exactly the same as the one found on every plug-in car coming to market, it can be connected to either a 110- or 220-volt outlet to replenish the car's 5.2 kilowatt-hour (kW-hr) lithium-ion battery pack in 1.5 to 4 hours.
That's triple the capacity of the one in a standard Prius, but only a third of the Volt's 16 kW-hr pack. The idea is to provide a small electric boost without adding too big of a boost in the price of the car. When it hits showrooms, the Prius Plug-In is expected to sticker at $28,000 -- about $5,000 more than the base model, or about what an optional navigation system and upgraded stereo costs. The Volt goes for $41,000.
The trade-off is that the Prius Plug-In can't lock itself into electric-only mode the way that the Volt can for 35 miles on a full charge, as rated by the EPA. Technically, under the right circumstances – which surely include a flat road and a driver with a light right foot – Toyota says that it can reach a top speed of 62 mph and travel up to 13 miles on battery power alone. In reality, it operates very much like a standard Prius, blending gas and electric operation as demands require, but relying on the battery more often than usual.
The idea behind it is that while gasoline is expensive, electricity is relatively cheap, so if you can bring a few electrons with you from home every morning you'll lower your overall cost of operation, at least on short trips. If your commute is five or six miles through the suburbs you can easily get to work without using the internal combustion engine at all. Driving normally on a mix of low and high-speed roads, I saw a 75 mpg average over the course of 10 miles before the plug-in charge depleted, a 50 percent increase over the 50 mpg rating for the standard Prius.
Like the Hulk turning back into Dr. Bruce Banner after he runs out of steam, that's what the Prius Plug-In becomes at this point: a standard Prius. The bookish five-door will churn out that kind of fuel economy for as long as you need it to, or until you plug it in again to get juiced up. (If you must know, when the Volt is running in its extended-range mode it gets 37 mpg.)
Click here for more automotive news from Fox Car Report
Drawbacks are few. That is if you're already a fan of the Prius. Located under the cargo bay floor as it is, the battery chips away at cargo capacity a little and takes up the space normally reserved for a spare tire. A fix a flat kit is provided in its absence. This could change some as the production model will use a different battery but with similar specifications. As it stands, the weight gain of the conversion – about 300 pounds – won't be an issue for most of the people who are attracted to this type of car, but would be noticeable at a drag strip…
(Sorry, I got caught up in a moment of LOL there. I'm fine now. No, wait a minute…and we're good.)
Easy, but bad jokes aside, the latest Prius is actually a competent handler and not at all sloppy on wonderful, twisty roads. The position of that extra ballast in the rear even seems to give the Plug-In model better balance through turns. I can live without the moaning that comes from the carry-over 1.8-liter four-cylinder engine under hard acceleration, but the roomy interior is fine by me. Eco-hipster aspirations aside, it is its practicality that makes the Prius a top-20 selling car.
Toyota is reportedly planning to move 25,000 Prius Plug-Ins in its first year – about 20 percent of overall Prius volume. Ambitious? Chevrolet has set the same target for the Volt's debut season. It will be interesting to see what happens when they go head-to-head in the sales race, if not on a racetrack.
Fox Car Report is on Twitter. Follow us @foxcarreport