This truck hauls: Volvo Iron Knight breaks semi speed records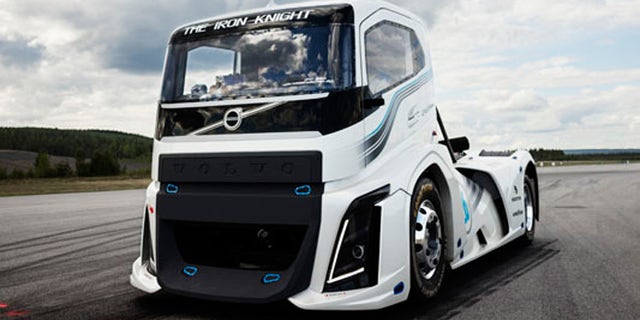 Same day delivery? Sorry, too slow.
Volvo Trucks has built the world's quickest semi-tractor.
The Iron Knight is a purpose-designed, 10,000-pound sprinter powered by a quad-turbocharged 13-liter diesel engine that cranks out 2,400 horsepower and 4,425 pound-feet of torque. It's fiberglass bodywork is formed to feed and cool the beast with air.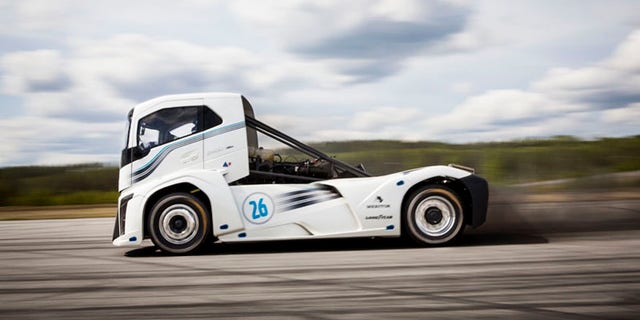 The engine is mid-mounted in the chassis – just like a Formula 1 car's! – and sends its power to the rear wheels through a stock I-Shift Dual Clutch automated manual transmission, which is the technology Volvo is aiming to promote with this stunt.
Volvo says the Iron Knight can accelerate from zero to 62 mph in 4.6 seconds, but the records it's claimed are for the 500-meter and 1,000-meter sprints.
Professional truck racer Boije Ovebrink drove the Iron Knight on an airplane runway in Sweden, where he had to complete two runs in opposite directions within an hour to qualify for the FIA-sanctioned records. His average times were 13.71 seconds over 500 meters and 21.29 seconds for the kilometer, and he hit a top speed of 171.5 mph in the process.
He got the records, breaking ones he already held. But there could be some electrifying competition on the horizon.
Tesla also claimed a speed record this week. It says its new Model S P100D sedan can do 0-60 mph in 2.5 seconds, making the world's quickest production car on sale today. Tesla also recently announced that it plans to put a battery-powered semi in production within a few years. Seeing as how the company loves to tout the "ludicrous" speed of its cars, can a lightning-quick electric truck be far behind?