This 2,400-hp Volvo semi was built to demolish speed records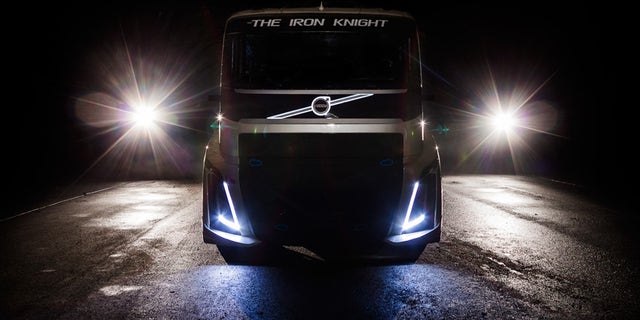 No one does fun things with extremely large semi trucks better than Volvo. The automaker has put its trucks up against a Koenigsegg on a track and even let a four-year-old remotely control one of its dump trucks. In its latest endeavor, Volvo is going after a world speed record with this 9,920-pound beast. Let us introduce you to The Iron Knight.

On August 24, Volvo Trucks is going to attempt some new world speed records with this 2,400-horsepower semi truck. The Iron Knight uses a heavily modified D13 diesel engine with four turbochargers and a water-cooled intercooler. The mid-mounted engine puts power down through an I-Shift dual-clutch transmission that's mostly stock besides a reinforced clutch – it needed to be upgraded to handle 4,425 pound-feet of torque. No, that's not a typo.
To simply call this thing heavily modified is a bit of an understatement, as the stock D13 unit produces just 500 horsepower and 1,850 pound feet of torque in its most potent form. Aside from the powertrain borrowed from Volvo's regular semi-truck lineup, The Iron Knight is custom from the ground up.

This isn't Volvo Trucks' first attempt at breaking a world record with a semi truck. In 2011, the automaker set two new world records in 500- and 1,000-meter runs with the hybrid "Mean Green" semi truck that put down more than 2,000 horsepower. The Iron Knight will go after the same two categories, trying to set the best average speed over each distance. Volvo Trucks' teaser video above shows a glimpse of what's to come, and it looks promising.