The practical gift guide for car lovers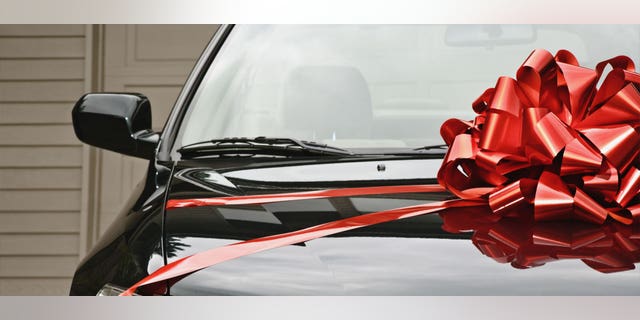 NEWYou can now listen to Fox News articles!
Consumer Reports has no financial relationship with advertisers on this site.
You can find plenty of gimmicky gifts for car lovers. But will those presents help someone if their battery dies?
Our guide is aimed at making someone's daily drive safer and more enjoyable. Buy these gifts and the person who receives them can keep their tires properly inflated (better gas mileage!), be prepared for an emergency, and maybe even learn how to drive better.
Music Subscription
With the ability to connect a smartphone to a car stereo, drivers have more music options than ever. Most recent cars have the ability to pass along music stored on a phone or streamed via phone and the ability to control some music apps directly.
Pandora and Spotify are integrated in many infotainment systems, providing a compelling alternative to terrestrial and satellite radio. Each app has a base-level, free service that is ad-supported (meaning you'll hear an ad every so often between songs). For $4.99 a month, Pandora Plus removes ads from its streaming radio service, and Pandora Premium at $9.99 a month allows you to search for individual songs or albums, and lets your create your own playlists. Spotify has a similar service, likewise priced at $9.99 a month.
Many cars over the last decade have come with a satellite radio receiver, enabling drivers to subscribe to SiriusXM and access more than 150 channels of entertainment. An introductory six-month trial is being offered for $30, enabling the music fan on your holiday list to stream more than 80 channels of country, rock, hip-hop, classical, or pop music. Or for about $21 per month, you get access to all the channels, including news, sports, and comedy. A subscription allows you to listen in your car, at home, in the office on your computer, or via smartphone and tablet.
Learn more about car infotainment.
Jump Starter Battery Pack
Micro-sized battery packs (most only weigh a pound and are roughly the size of a paperback novel) are powerful enough to get a motor running and can also be used to recharge portable devices, such as mobile phones and tablets, which makes them a useful part of an emergency kit as well.
All the units we tested had at least one built-in USB port to handle those recharging duties, as well as a built-in flashlight; some had connectors that allow you to charge certain types of laptops. These functions add a lot of versatility to the jump packs, especially when the power goes out at home or when you're camping.
The 10 units we tested had an average price of about $90. The standout in our tests (and therefore the one we suggest as a gift) was the Antigravity Batteries XP-10, though it commands a price premium that can make it $50 or more pricier than other tested models. It provided power for three times as long as the poorest performers in our testing, and it has two USB ports, several laptop connection options, and best-in-test device charging capacity. There are strong alternatives from Bolt Power, New Brights, and Spirit that performed nearly as well, for much less money.
See our jump starter buying guide and ratings.
Tire Pressure Gauge
A simple, stocking-friendly tire pressure gauge can be an important reminder to routinely check tire pressure monthly. It's important to keep your car's tires properly inflated to get the optimum performance, safety, and tread life. Without the proper pressure, tires can wear faster and unevenly, waste fuel, and hurt the vehicle's handling.
There are three basic types of gauges: stick, dial, and digital. Our testing shows that you don't need to spend much to get a good gauge. Stick gauges are the most compact, making them easy to stow in a glovebox. Our picks for accuracy, durability, and ease of use are a couple affordable digital units, the Accutire MS-4021B and Accutire MS-4400B.
See our tire pressure gauge buying guide and ratings.
Cordless Tire Inflator
A cordless tire inflator can be a great convenience to top off the air pressure in a tire. It eliminates the need to run a large compressor and drag around hoses or stop at the local gas station.
Adding appeal for these versatile devices, they typically come with a connection to inflate car tires and a needle adapter to inflate basketballs, footballs, and the like. Most also include a special adapter for blowing up inflatables (like pool toys), and some have adapters for inflating high-pressure bicycle tires.
Many can be found that are compatible with a line of battery-powered tools, making it tempting to add the inflator as part of suite of tools, rather than as a single, stand-alone item.
In evaluating several this fall, we liked the Ryobi One+. Among that group, it had the most muscle with the fastest inflation performance. And it costs just $20, assuming you can use the battery and charger from other Ryobi tools. However, if you're not already a Ryobi tool owner, it's a bit pricey when you add in the cost of the battery and charger ($59).
Learn more about choosing a cordless tire inflator.
Emergency Kit
Bad holiday weather can leave you stranded, but a well-stocked emergency kit may get back on your way, or at least make time waiting for help a lot less stressful. Emergency kits vary widely in price and contents; a common approach is for them to include battery jumper cables, a basic first aid kit, flashlight/reflectors, space blanket, snow shovel, tow strap, and ice scraper.
We purchased a few winter emergency kits online just to gauge what you might get and how useful they may be in a pinch. The ones we bought ranged from about $45 to $75. These may seem pricey, but you'll probably spend more than $100 to buy many of the items individually to assemble your own kit. Our team liked the AAA emergency kit shown here, for its completeness and portability. It includes a metal shovel, cold-weather gear, and many safety essentials in its compact package.
Look for a kit that will complement how and where you drive and how much space it might take up in a car.
Learn more about assembling your own emergency kit.
Driving School
Driving schools offer everything from car-control training for inexperienced drivers to advanced skills for wannabe race car drivers.
Often held at racetracks around the country, one-day events as the highly respected, long-running schools listed below start around $600, but a high-speed ride-along can be had for about $100. Check the links below for specific pricing and locations, and search online for schools based in your region.
One great series that CR actively supports, and hosts twice a year at our test track in Connecticut, is the teen training program Street Survival. Held as an event in different parts of the country, Street Survival hones the skills of a licensed teen by focusing on safe driving techniques and concepts.
It is worth noting that there are some special discounts available on driving schools for the holidays.

• Richard Petty Driving Experience Sessions range from one-lap ride-alongs to race driving instructions at tracks across the U.S. Prices range from $100 to $600, depending on the course.
• Bob Bondurant School of High Performance Driving Conducted at a track near Phoenix, Ariz., courses range from teen driving (starting at $799) to high-performance training (starting at $1,599).
• Street Survival Teen-driving sessions held nationwide; $95.
Performance Tires
Good tires can transform how a car holds the road. That's why upgrading to a higher-performance all-season or summer tire can improve a car's handling and braking. One extra-special indulgence is the Michelin Pilot Sport A/S 3+, our highest-rated ultra-high-performance all-season tire. It excels in dry braking, dry handling, and wet handling. Pricing starts around $152 per tire (but might vary by retailer and by size).
See our tire buying guide and ratings.
Consumer Reports is an independent, nonprofit organization that works side by side with consumers to create a fairer, safer, and healthier world. CR does not endorse products or services, and does not accept advertising. Copyright © 2017, Consumer Reports, Inc.