The biggest Chevy Silverado ever is on the way next year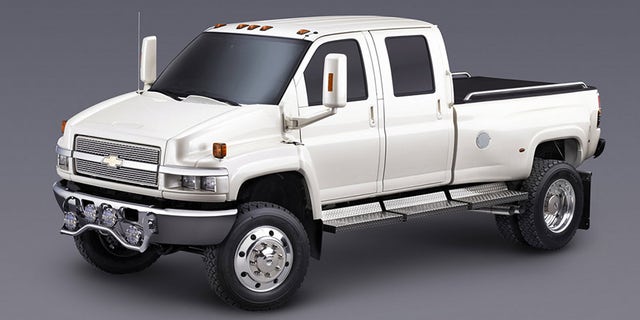 Chevrolet will sell its biggest Silverado ever when it launches a new line of trucks in the medium-duty truck segment next year.
The automaker has confirmed the Class 4 and Class 5 trucks will wear the Silverado 4500 and Silverado 5500 nameplates, similar to how Ford brands its medium duty trucks under the same F-Series banner as its light and super duty pickups.
CHEVROLET CELEBRATING 100 YEARS OF TRUCKS WITH SPECIAL EDITION PICKUPS
"We are earning new business because we have more solutions to help businesses grow," Chevrolet U.S. director of Commercial Product John Schwegman said in a statement announcing the new models.
"The Silverado 4500 and 5500 will stand out because we've designed the trucks around how customers work. They will be powerful, highly maneuverable and among the easiest trucks on the market to upfit with specialized bodies, such as dump bodies, rollbacks, freight boxes and more."
The trucks will be available in regular and crew cab configurations and available with 4x2 and 4x4 drivetrains with Allision transmissions and Chevy's Duramax diesel engine, which is rated today at 445 hp and 910 lb-ft of torque in heavy duty pickup applications. Full details will be announced closer to their launch in late 2018.
Chevrolet currently offers a line of low cab forward cab chassis trucks in Class 3 to 6 that are reengineered versions of Isuzu models, while the new Silverados are part of a joint venture with Navistar and are closer in design to the Chevrolet Kodiak, which went out of production in 2009.
Its long been rumored that the U.S. President's Cadillac limousine, which was last updated in 2009, is built on a Kodiak chassis in order to carry its heavily armored body. A new limousine is known to be in development and expected to be delivered to the White House before the end of this year. It's possible that it is merely an update of the existing vehicle, but the timing makes it possible that it is based on the new truck.
TRUMP'S NEW PRESIDENTIAL LIMO COULD BE AN OCTOBER SURPRISE