The 55 MPG Ford Focus You Can't Have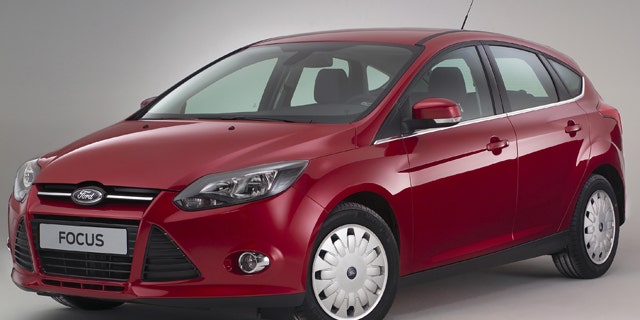 You may not want to drive 55 mph, but how does 55 mpg sound?
Ford has unveiled its 2012 Focus ECOnetic, which it is billing as the most fuel-efficient non-hybrid family car on the road. It will make its public debut at the Frankfurt Motor Show next week.
The five-door compact is powered by a small turbocharged diesel engine of unspecified horsepower fitted with stop-start technology -- so it doesn't run when the car is sitting at a light – and has active grille shutters that reduce aerodynamic drag at highway speeds. Low rolling resistance tires, low friction oils and a number of other fuel saving features help push the Focus' fuel economy past a projected 69 mpg on the European testing cycle, which generates figures typically 20 percent higher than EPA ratings.
According to Ford, British motorists can expect an astounding 83 mpg from the five-seater, but that's because they use the Imperial gallon, which is 20 percent bigger than ours. The Focus will be joined on the show stand in Frankfurt by a new subcompact Fiesta ECOnetic rated at 86 imperial-mpg. The 2011 model gets 76 Imperial-mpg using a 90 hp engine.
FoxNews.com Autos is on Twitter. Follow us @foxcarreport
And what can the American driver expect? Well, for now we'll have to settle for the 33 mpg Super Fuel Economy editions of both models, which use traditional gasoline engines. There are currently no plans to sell diesel versions of the Focus or Fiesta in the United States. Ford has previously cited the high cost of producing this type of engine thanks in part to tougher emissions standards on this side of the Atlantic and low consumer demand as reasons for not bringing them here. Diesel-powered cars currently account for approximately 1 percent of U.S. sales, but are expected to rise as corporate average fuel economy standards start to climb toward a target of 54.5 mpg by 2025.
Click here for more Cars You Can't Buy Here
Nevertheless, Ford's top competitor, Chevrolet, has announced that it will begin selling a diesel version of its best-selling Cruze four-door starting in 2013. Rumor has it that Chevy is aiming for it to get over 50 mpg highway on the EPA cycle. The top diesels currently sold in the United States, the relatively powerful Volkswagen Jetta and Golf, are both rated at 42 mpg highway and 34 mpg combined.
Click here for more from FoxNews.com Autos