Steven Tyler buys a wild 275 mph ride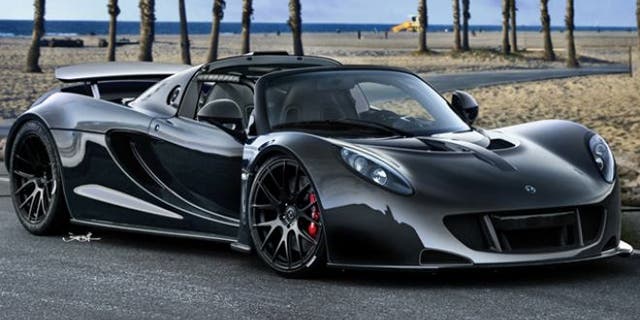 American Idol's ratings may not be what they used to, but the hit show's hosts are doing just fine.
Steven Tyler is set to take delivery of a $1.1 million roadster just in time for his summer vacation at the end of the season.
The Aerosmith lead singer will be the first owner of the Hennessey Venom GT Spyder, a 1,200 horsepower monster with a theoretical top speed of 275 mph that's built just outside Houston, Texas.
The two-seat drop-top is based on a Lotus chassis and powered by a Chevy Corvette V8 that's been heavily modified and twin-turbocharged by Hennessey, a company that specializes in boosting engines to ridiculous levels of performance.
The hardtop version of the Venom can reportedly accelerate from 0-200 mph in 15.3 seconds.
Only five Spyders will be built next year, but Tyler's black on black model will be unique. Inside Line reports that he's ordered a custom JL audio system installed and is having it tuned by Aerosmith's former audio engineer, David Frangioni.
No word if Tyler will be hanging any scarves from the gearshift lever, but he'll be heading out with his old band on a "Global Warming Tour" in June where his new car's thirst for fuel should certainly help them heat things up while they "kick your a-- and make out with your mothers," as the eternal rock and roller promises they will.
Read: Hennessey Ford GT sets standing mile record at 257 mph