Startup Bollinger Motors reveals electric pickup with transformable cargo bed
Electric truck maker Bollinger Motors doesn't plan to start building vehicles until 2020, but when it does, it will have three. At least.
The American startup has revealed plans for a battery-powered four-door pickup that it will sell alongside its previously announced two- and four-door SUVs.
Renerings show the B-2 Pickup has the same boxy style and high-tech features as its stablemates, including an aluminum body, twin electric motors providing 520 hp and all-wheel-drive, a hydro-pneumatic suspension system that can increase ground clearance from 10 to 20 inches on command and a range of over 200 miles between charges.
The vehicles are being developed as heavy duty Class 3 trucks, which means they won't need all of the expensive safety equipment as passenger cars, like airbags, although Bollinger is marketing them for both commercial and recreational use.
The Pickup has a 4-foot 1-inch-wide by 5-foot 9-inch-long bed that can be extended to accommodate 8-foot-long items by folding down an "inner tailgate" at the back of the passenger compartment and flipping up the rear window. Bollinger says it will fit a stack of 72 sheets of plywood in this configuration. You can also slip narrower objects of infinite length down the middle of the truck and out through a front "nose-gate" thanks to the absence of a large internal combustion engine up there. The maximum payload and towing targets are 5201 pounds and 7500 pounds, respectively.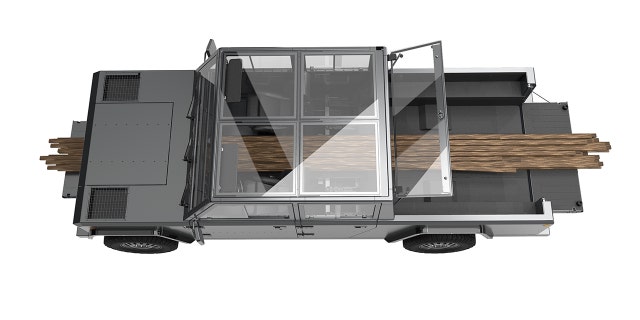 Bollinger was founded as a small operation in Hobart, N.Y., but moved its headquarters this year to Ferndale, Mich., where it is putting the finishing touches on its trucks with the help of established automotive industry consultants and suppliers.
The company claimed last year to have over 10,000 reservations for its SUVs, which company founder Robert Bollinger told Fox News he is aiming to price below $100,000.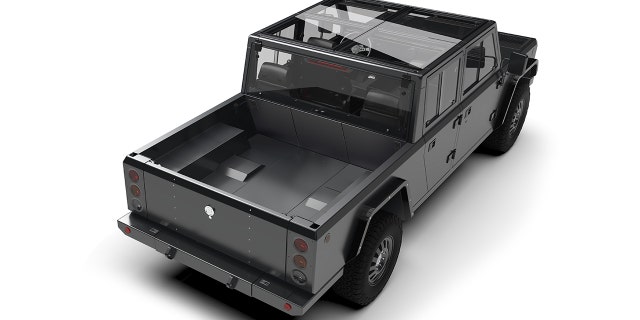 While none of the established automakers currently have plans to introduce fully electric pickups within Bollinger's timeframe, it may face some competition from fellow startup Rivian Automotive, which will be unveiling a battery-powered pickup and SUV at the Los Angeles Auto Show this November that it hopes to start building in Illinois in 2020.
RIVIAN AUTOMOTIVE IS LOOKING TO BATTLE ELECTRIC CARS WITH BATTERY-POWERED TRUCKS: