Tiny Smart car leads police on highway chase in Phoenix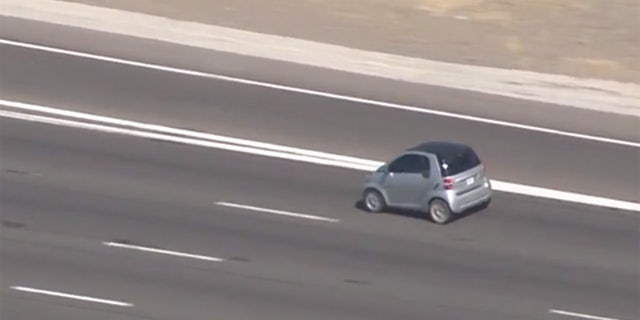 Police chased a silver Smart Fortwo microcompact car through the Phoenix area on Interstate 10 Wednesday morning as a news helicopter captured the pursuit.
Fox 10 reports that officers had responded to reports of a man screaming in a Gilbert, Ariz., Walmart parking lot, and that he refused to speak to them and drove off.
Police followed him and tried to get him to pull over, but he wouldn't stop and ran through several red lights as he continued on.
Several Arizona Department of Public Safety patrol cars joined the pursuit, which never reached high speeds as the Smart Fortwo has a top speed of approximately 90 mph.
CLICK HERE TO GET THE FOX NEWS APP
Police initially allowed the car to continue on its way, but eventually intercepted it and used a spike strip to slow it down, but had to do a pit maneuver to bring it to a stop.
AZFamily.com reported that the driver, Binh Thien Nguyen, was taken into custody and charged with unlawful flight DUI, possession of drug paraphernalia, unlawful flight and criminal damage.
This story has been updated with additional information