Retro-modern Opel GT concept is GM's sports car of the future
The "Baby Corvette" is back.
General Motors has unveiled the Opel GT Concept, a modern version of the tiny sports car it built from 1968-1973.
The concept features the same proportions of the original, with a long and low hood, tall roof, and fastback rear with no trunk opening.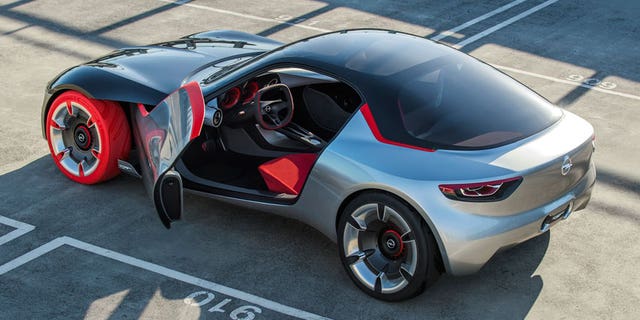 A panorama of glass stretches from front to back, while the fanciful non-opening side windows are integrated into the doors and smoked to appear the same color as the body. The electrically-operated doors are hinged to open into the front wheel arches to provide a large opening in tight urban parking spaces.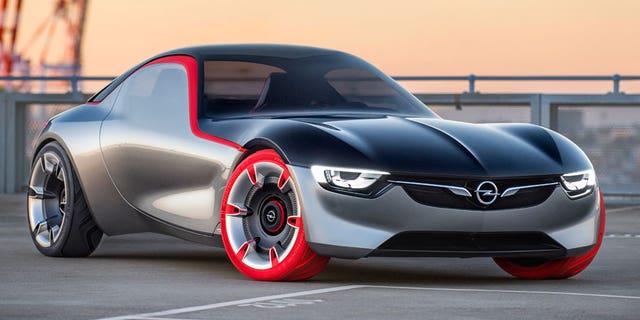 The featherweight, 2,200-pound two-seater is powered by a 145 hp 1.0-liter three-cylinder turbocharged engine that's mounted behind the front axle line, and has a paddle-shifted six-speed sequential transmission and rear-wheel-drive. Its red front tires are an homage to an Opel motorcycle from 1928.
The GT Concept will make its public debut at the 2016 Geneva Auto Show, just two years away from the original's 50th anniversary. While GM says the GT Concept is "how sports cars will look in future," it hasn't said whether or not this particular one will go on sale. But if it does, history suggests it might make the trip to the United States.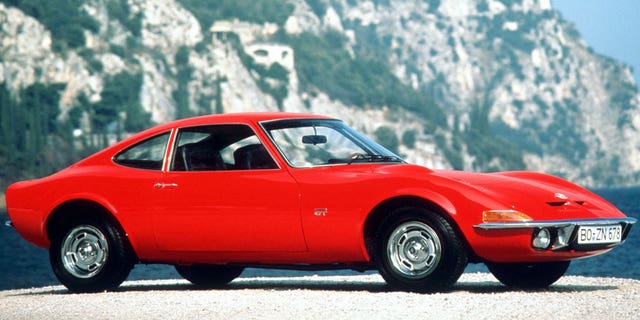 Around 70,000 of the original German-made GTs were sold in the U.S. through Buick dealers, and the brand's current lineup includes several models shared with Opel, including the Encore, Regal and upcoming Cascada convertible. Opel also sold a GT from 2007-2010 that was built in Delaware on the same platform as the Pontiac Solstice and Saturn Sky.
Buick has been revamping its image in recent years in an effort to reach younger buyers, and a sports car that matches up against the likes of the Mazda Miata and Scion FR-S help with that. Meanwhile, the retro-modern vibe of a new GT could also appeal to older customers who were too young to buy one the first time around.
----------
2016 Mazda Miata Test Drive