PepsiCo to reduce gas...consumption with order for 100 Tesla Semis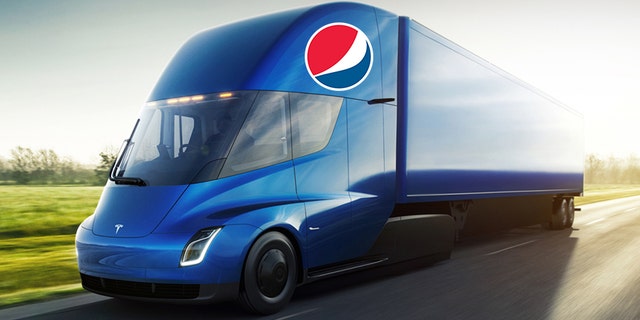 Tesla's electric semi is quickly becoming the choice of a new generation…of truck buyers.
PepsiCo announced on Tuesday that it has ordered 100 of the battery-powered rigs.
The snack food and drink giant told Reuters it will incorporate the Teslas into its 10,000-vehicle fleet and use them for short-haul deliveries.
Exactly how short will depend on what they're hauling. The trucks are being offered in 300-mile and 500-mile per charge versions, and company supply chain executive Mike O'Connell is studying which routes will suit them best, figuring a lighter load of chips will go farther than a trailer full of beverages.
PepsiCo joins over a dozen brands that have revealed they have reservations for the trucks, including Walmart, Sysco, and Budweiser, who ordered 40 last week.
Prices for the trucks run from $150,000 to $200,000 each, and deliveries are slated to begin in 2019.
TESLA PICKUP CONCEPT REVEALED, BUT IS IT FOR REAL?