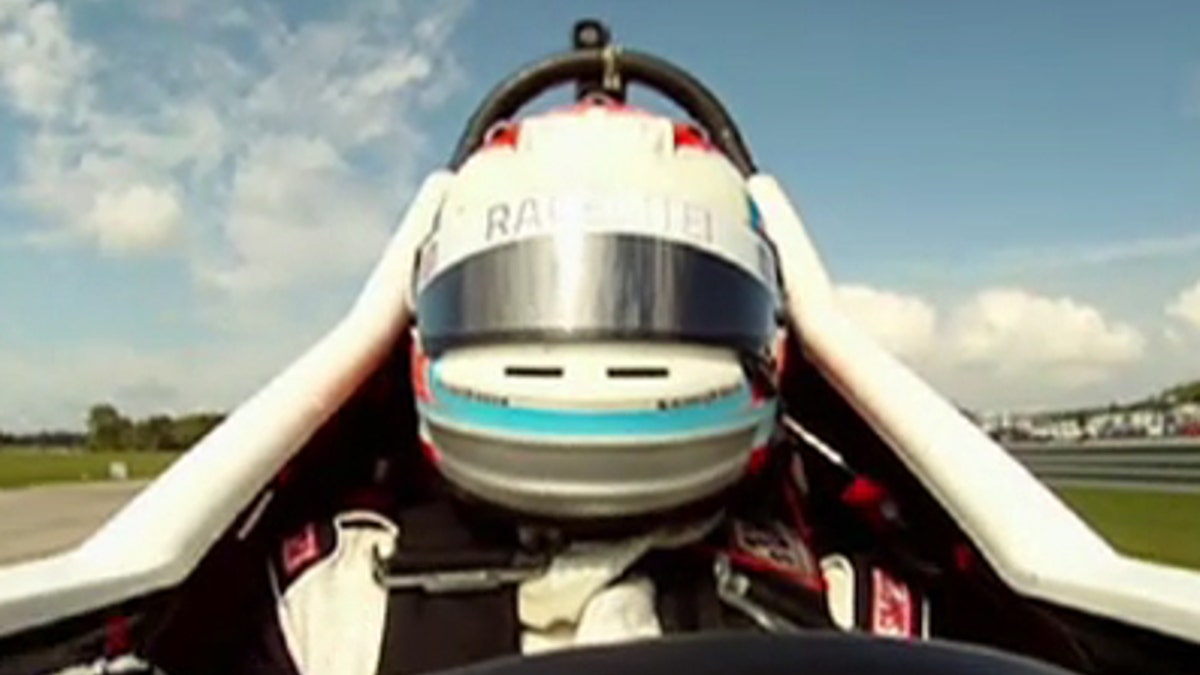 Driving a race car requires strength, intelligence, agility, quick reflexes, discipline and courage. Michael Johnson has all of that and more. He's competing and winning against able-bodied competitors despite a huge physical challenge: he's paralyzed from the waist down.
Johnson, who just turned 19, finished third in the Skip Barber Summer Series, driving open-wheel, open-cockpit Formula cars. While the other drivers can use their feet to accelerate and brake, and their lower body strength to hold themselves in place through the turns, Michael relies solely on his hands, with special controls for the throttle and clutch. He pushes in on the steering wheel to brake.
Michael rides a wheelchair to pit lane and gets help from his coach to climb in and out of the car.
"Other people might just sit at home, like a lot of people feel sorry for themselves…" Michael says. "You don't have to live that life and I think I can definitely show them that you can do what you love."
"I never think about 'pity me, why'd it happen to me"… it's in the past and I just move forward."
He started racing motorcycles when he was just four years old. By the age of 12 Michael had won 14 National Championships, but then had a horrific wreck while trying to take the lead in a race on a dirt track. His body slammed into the handlebars and he broke his back, every one of his ribs on the right side, one of his legs and other bones. He was a T-5/T-6 parapalegic, paralyzed from the chest down.
"The day I got hurt I told my dad I don't want to stop racing, don't make me stop." Michael says. "When I was recovering in the hospital we were researching things I could do to race and we finally found go-karts and I started from there."
Michael's mom Kathi was there to see his devastating crash, but still supports him and watches every race. "Don't ever tell him he can't do something because he'll prove you wrong" she says, "and he already has. Nobody said that he would be able to do this and he's already proved everybody wrong."
"He never got depressed" she says. "Never 'poor me poor me"… he's always had a wonderful attitude about this whole thing and that's what inspires everybody."
What may be even more incredible about Michael's story is that his condition has actually improved. He had experimental stem cell surgery in Portugal in 2007 and goes to intense physical therapy three hours a day, three days a week, and he's now been upgraded to a L1-L2 parapalegic which means he's regained feeling in his chest and abdomen. And while he's still paralyzed from the hips down, he believes he will one day walk again.
"I consider myself lucky" Michael says. "It could have been a lot worse than what I am right now and it's, it's coming back."
He says he doesn't mind being considered a role model and he hopes to inspire others and he's on his way to achieving his goal of driving and competing in the Indianapolis 500. He's testing his new car on the famed track at the end of October and turns pro in 2012.
"He learns every lap, every corner…" says his coach, former driver Grant Maiman. "He takes it with him to the next session, to the next race, to the next weekend, to the next track, wherever it is. He's always improving. He's strong."
"He's one of the smartest I've seen, one of the most consistent I've ever seen" Maiman says. "He can absolutely do the 500, there's no question in my mind that he WILL do the 500."
Michael is asked if racing takes him away from his troubles. "I think it does, yeah. Takes me away from everything. When I'm winning races I'm the happiest I can be."