Nikola Motor Company unveils sleek, hydrogen-powered European semi truck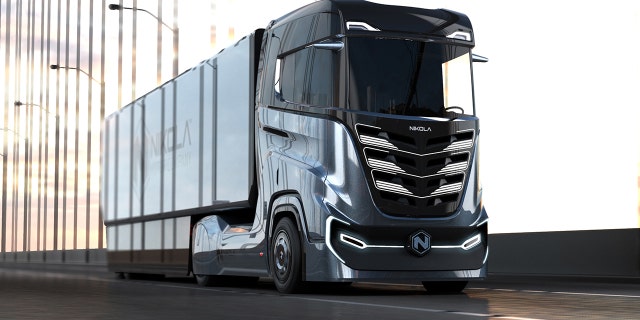 Electric semi-truck startup Nikola Motor Company is still a couple of years away from putting its hydrogen fuel cell-powered haulers into production, but it already has its sights set on the European market.
Following its U.S.-focused One and Two models, the Phoenix-based company has unveiled the Tre, which features the cab-over design common in Europe due to vehicle length regulations. Nikola said it will offer several versions of the truck with 500 hp to 1,000 hp and 500 km to 1,200 km of range.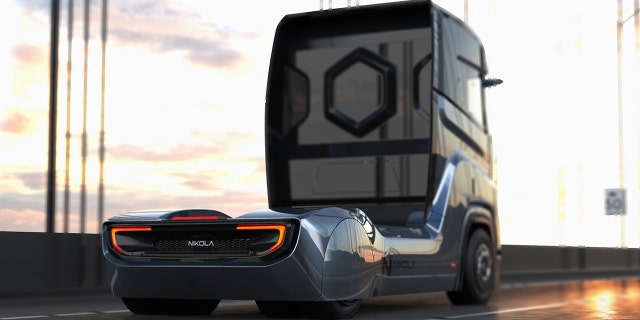 Nikola is planning to establish its own hydrogen refueling network, with stations placed strategically along major shipping routes. The idea is that its non-polluting trucks will be able to be refueled more quickly than battery-powered trucks with similar range -- like the one Tesla has in development -- can be recharged.
NIKOLA MOTORS FILES $2 BILLION PATENT INFRINGEMENT LAWSUIT AGAINST TESLA
Along with the zero-emissions drivetrains, Nikola says it will equip its vehicles with redundant steering and braking systems that will prepare them to be equipped with fully-autonomous driving technology.
The four-year-old company is building a $1 billion factory in Phoenix and claims to have over 8,000 orders for the One and Two, which are scheduled to go into production in 2022. Nikola is currently searching for a European location to build a second plant where it will manufacture the Tre.
MORE TRUCK NEWS FROM FOX NEWS AUTOS