New York Auto Show: The Lincoln Aviator SUV returns
Lincoln has a new high-tech SUV that the automaker hopes will drive the sales to new heights.
The Aviator concept making its public debut at the New York International Auto Show offers a sneak peek of a production model heading to showrooms soon and resurrects the name of a short-lived model last sold in 2005.
The three-row crossover is set to replace the slow-selling MKT, but is much more than a revamp. The Aviator rides on an all-new rear-wheel-drive unibody platform that puts it in league with many European luxury imports. (You can almost surely expect it to underpin the next generation Ford Explorer, too.)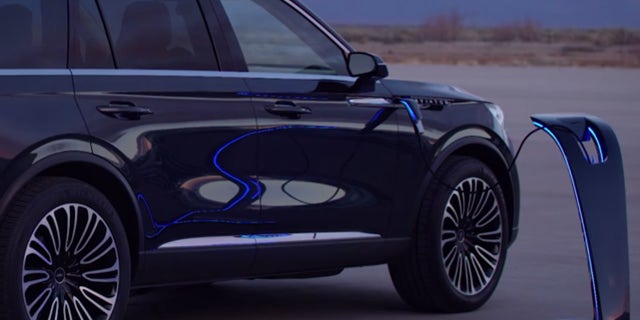 All-wheel-drive will also be available, of course, and the Aviator is set to be powered by a twin-turbocharged engine that Lincoln hasn't divulged any more details about yet, except that it you'll be able to get it with a plug-in hybrid powertrain that will provide some measure of all-electric driving.
There was an X-ray sketch of the Aviator displayed at its media launch event prior to the show that depicted it with an inline-six-cylinder engine, but Lincoln's head of development, Scott Tobin would not confirm what's really under the hood.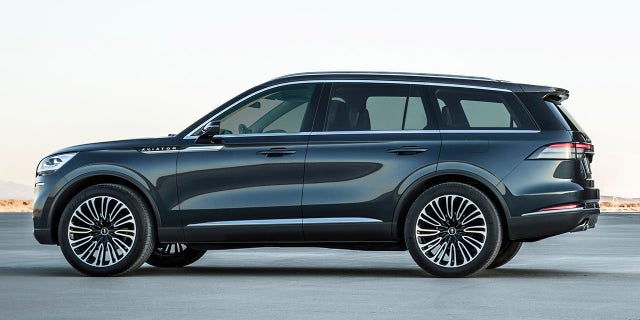 Although very much an SUV in appearance, the Aviator's styling was inspired to some degree by its name. Lincoln Design Director David Woodhouse points to the converging roof and rocker lines that create an airfoil-like shape, while the bold front end and tapered greenhouse echoes historic aircraft design.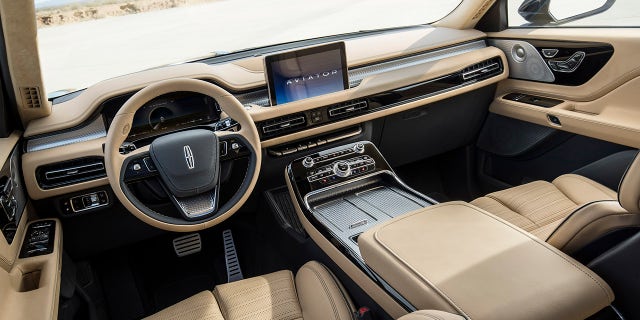 The interior looks like a scaled-down version of the popular Lincoln Navigator's, with long horizontal lines on its dashboard that are meant to evoke a calming horizon, a digital instrument cluster and a large floating infotainment display at the top of the center console. The brand's signature 30-way adjustable massaging seats are available in the front row, and there is ample legroom in the two behind it.
A Co-Pilot360 safety system includes automatic emergency brakes, lane keeping assist and other driver aids, and the Aviator will be the first Lincoln with a front-mounted camera that scans the road for bumps and gives the computer-controlled suspension a heads up so it can be ready to deal with them.
One of the Aviator's key features, however, is that you won't need a key to drive one. At least not in the traditional sense. Instead, you'll be able to use Lincoln's Phone as Key technology, which uses an app that allows you to not only unlock the car, but also start it even if you don't have your keyfob with you. You'll also be able to text a valet a temporary key, and if your phone dies a backup system lets you use a keypad on the door to enter the vehicle where you can enter another code to start it and drive away.
Pricing for the Aviator has not been revealed, but it will likely slot into the lineup above the Nautilus with a starting price around $45,000 when it goes on sale next year.