New Ford Mustang GT500 successor puts a lot of rubber on the road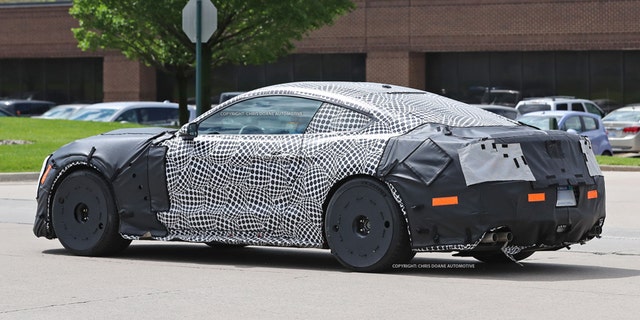 Now this is what you call a "boss" Mustang.
A camouflaged prototype of a new high performance Mustang variant has been caught cruising the streets outside Ford's Dearborn Development Center with what appears to be the director of the Ford Performance division, Dave Pericak behind the wheel. If it weren't an important car, he wouldn't be driving it.
Bulky black padding and a dazzling wrap hide most of the car's secrets, but the revealing part is where the rubber meets the road.
The coupe is wearing a set of Michelin front tires that are 305 mm wide. That's the same width as the rear tires on the current Mustang Shelby GT350 and matches the fronts on the Chevy Camaro ZL1's, which are the widest in the land. This suggests that the new Mustang isn't destined to be just a straight-line special, but is being developed with handling in mind.
FOLLOW FOX NEWS LIVESTYLE ON FACEBOOK FOR MORE AUTO NEWS
The wheels that those tires are wrapped around and the brakes inside of them are completely covered on the test car, but recent photos of what was purported to be a development vehicle for this model revealed what looked like carbon fiber wheels and carbon ceramic brakes, similar to those offered on the new $450,000 Ford GT.
If the Mustang is indeed a new GT500, Boss or Mach 1, it will likely be powered by a twin-turbocharged or supercharged version of either the Mustang GT's 5.0-liter V8 or Shelby GT350's 5.2-liter V8 with something approaching 700 hp. That'll let it compete with the 650 hp Chevrolet Camaro ZL1 and 707 Dodge Challenger SRT Hellcat, if not the upcoming 840 hp Dodge Challenger SRT Demon, which will be the front tire king at 315 mm. (It's a big, heavy car. It needs them.)
The last GT500 had a 662 hp supercharged V8, so don't expect the new one to bring less than that to today's escalating muscle car war when it is officially unveiled later this year.
RETURN OF THE SHELBY GT350: