Motorcycle rider crashes and gets shot by his own gun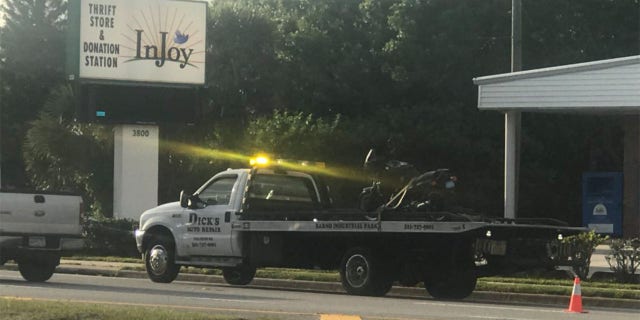 NEWYou can now listen to Fox News articles!
A motorcycle rider was seriously injured in a bizarre crash in Melbourne, Fla., last week when he wrecked his bike and got shot in the leg by the gun he was carrying on his hip.
Brian Alexander was riding down New Haven Avenue with a passenger on his 1984 Honda when on April 12 when he lost control and hit the curb, according to the Miami Herald. He suffered a gunshot wound to his thigh, and both riders were brought to a nearby hospital for treatment to their non-life-threatening injuries.
A Florida Highway Patrol spokeswoman tells Fox News that the cause of the accident and discharge of the gun are under still investigation, but that Alexander had a valid concealed carry permit and was carrying the .22 caliber firearm in a holster in compliance with state law. A hole in the bottom of the holster indicated that it was still secured in it when it fired.
Photos taken at the scene by Spectrum 13 reporter Greg Pallone indicate that the motorcycle sustained relatively minor damage in the crash, which happened on a stretch of road with a 45 mph speed limit.