Mercedes-Benz Sprinter goes Extreme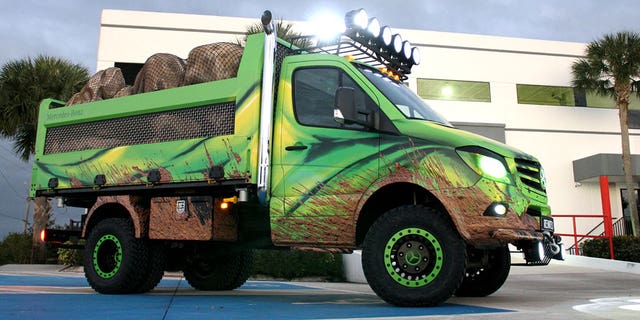 Mercedes-Benz introduced a stripped down, value-priced version of its Sprinter commercial van called the Worker at the 2016 Chicago Auto Show, to better compete with the latest European-style vans from Ford and Ram.
But if plain white box vans aren't your thing there's also the Sprinter Extreme.
Based on the dually Sprinter Cab Chassis, the nearly 8-foot-tall truck features a roof rack equipped with 8 off-road spotlights, brush guard, winch, suspension lift, and a six pack of beadlock wheels wrapped in off road tires.
Its turbodiesel four-cylinder engine breathes through chrome smokestacks, fitted just in front of a Scattolini ScattoMaax tipper bed. The bed can dump to the rear or either side and can carry a 5,200-pound payload.
The Sprinter Extreme isn't on sale as-is, but merely a conceptual showcase of the platform's capability.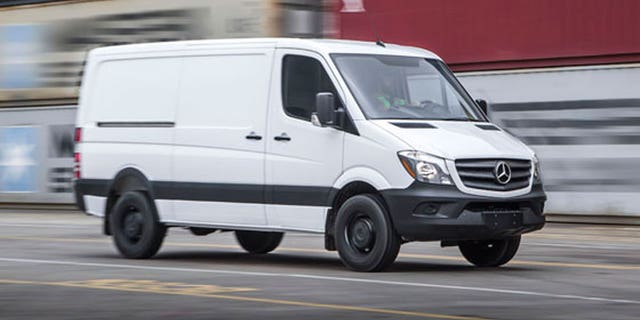 The Worker, on the other hand, offers the same 2.1-liter engine as the Extreme, with 161 hp and 266 lb-ft of torque, a 3,512-pounnd payload capacity and 5,000-pound tow rating in your basic short wheelbase, low roof van configuration for $33,490.
----------
2016 Mercedes-Benz Metris Test Drive