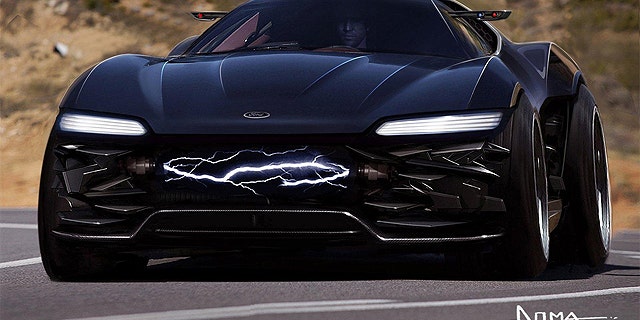 And you thought you'd seen the last of the V8 Interceptors.
Everyone's favorite post-apocalyptic renegade police officer, Mad Max, is set to return to the silver screen just in time for the real-world apocalypse that's rumored to arrive in 2012. Mel Gibson won't be reprising his role this time around – instead, he'll be played by up and coming British hunk Tom Hardy - but that's ok because, for many fans, Mel wasn't the star of the original films, anyway.
Instead, it was the heavily modified 1973 XB Ford Falcon GT coupe that Max drove in the first two films in the series, "Mad Max," and "Mad Max: The Road Warrior." The high-performance Pursuit Special based on a homegrown Australian muscle car that was once Down Under's answer to the Mustang.
To celebrate the reboot of the film franchise, Ford and TopGear Australia magazine have unveiled a pair of design proposals and are asking Aussie fans to vote for their favorite, in hopes one of them will be used in the new movie, "Mad Max: Fury Road."
Far more futuristic than the original, neither is based on an existing car, but both come packing plenty of high-tech highway battle equipment, including tazers to take down motorcycle riding bad guys, spiked wheels to tear the tires of attacking vehicles and titanium body panels to shield the car from police scanners…uh, isn't Max supposed to be the cop?
One of the designs even puts the driver's seat in the center of the vehicle, perfect for a loner.
Unlike the cars, details on the film are still mostly under wraps, but it is believed to be a sequel that takes place just three years after Tina Turner's character left Max to wander the desert alone at the end of 1985's "Mad Max: Beyond Thunderdome."
By the looks of these cars, things have gotten a lot better for him in those three years.
Click here for more from Fox Car Report