Jeep Wrangler concepts are mean and extreme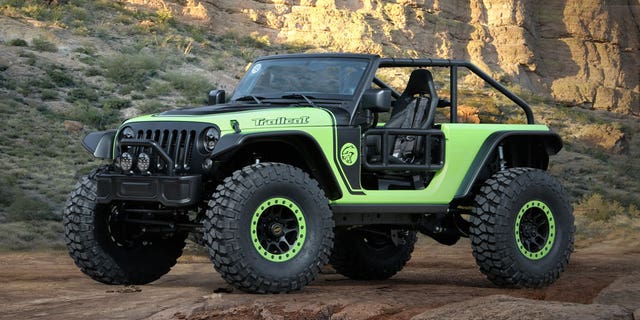 The Wrangler has gone to Hell...cat.
Built to shake things up at the annual Easter Jeep Safari festival in Moab, Utah, the Trailcat is a Wrangler 4x4 powered by the 707 hp Hellcat V8 from the Dodge Challenger muscle car.
The two-door Wrangler gets a foot-long wheelbase stretch to make room for the supercharged 6.2-liter engine, which powers a pair of Dana 60 axles through a six-speed manual transmission.
A two-inch lift helps it clear monstrous 39.5-inch tires wrapped around beadlock wheels, and a chopped windshield and the bucket seats from a Dodge Viper add a high-performance look.
It isn't destined for production -- yet -- but a Hellcat-powered Grand Cherokee is on the way later this year, so you never know.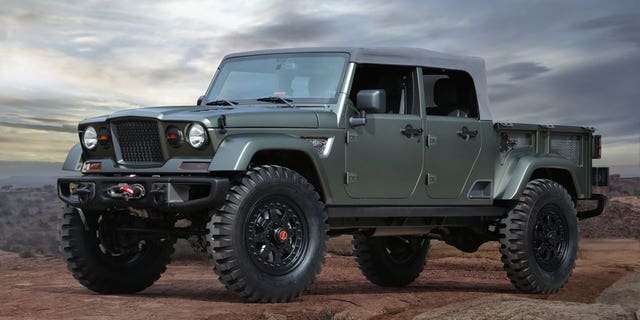 Along with the Trailcat, Jeep has also rolled out two other concepts for the Safari that demonstrate the possible opposite extremes for the Wrangler, as it readies an all-new version of the venerable SUV for next year.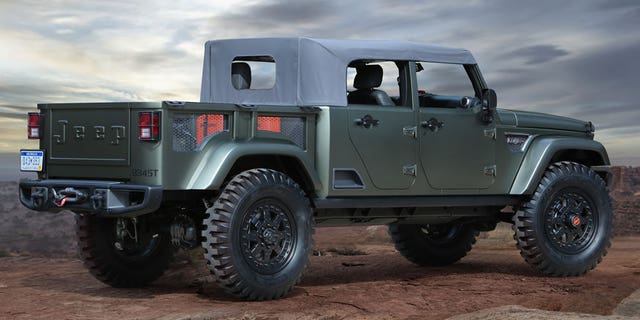 The Crew Chief 715 is a burly four-door pickup that pays tribute to the Kaiser M715 military truck from the late 1960's. It features a throwback front end design, old school NDT military tires, and Tactical Green paint.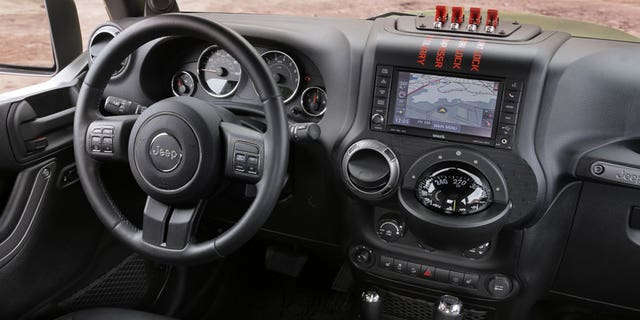 The truck's lightweight composite bed is designed to look like its made from wood, and it gets a heavy helping of Jeep Performance Parts everywhere else, including a four-inch lift kit, Fox reservoir shocks, rock rails, and winch-equipped steel bumpers front and rear. Inside, dashboard-mounted auxiliary switches operate locking Dana 60 differentials and on-board air compressor, and there's a gigantic ball compass on the center stack, which would come in handy if an EMP takes out the faux battle wagon's GPS.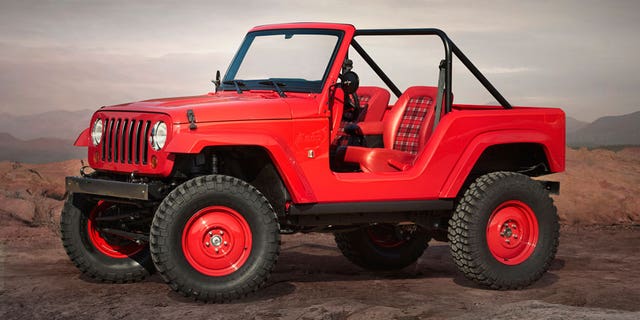 If that sounds like too much Wrangler for you, the Shortcut may be more your size. Meant to evoke the simplicity of the classic CJ-5, it's 26-inches shorter than a two-door Wrangler, is fitted with a tidy four-point roll bar, rides on throwback solid steel wheels, and has a set of plaid-upholstered low-back seats that apparently never heard the term whiplash.
Jeep has already confirmed plans to sell a pickup version of the next-generation Wrangler, but there's no telling if it will look anything like the Crew Chief 715. As for the Shortcut, while the company has previously said that it's considering doing a smaller version of the Wrangler, it hasn't committed to building one. In the meantime, a Sawzall and some elbow grease should do the trick.