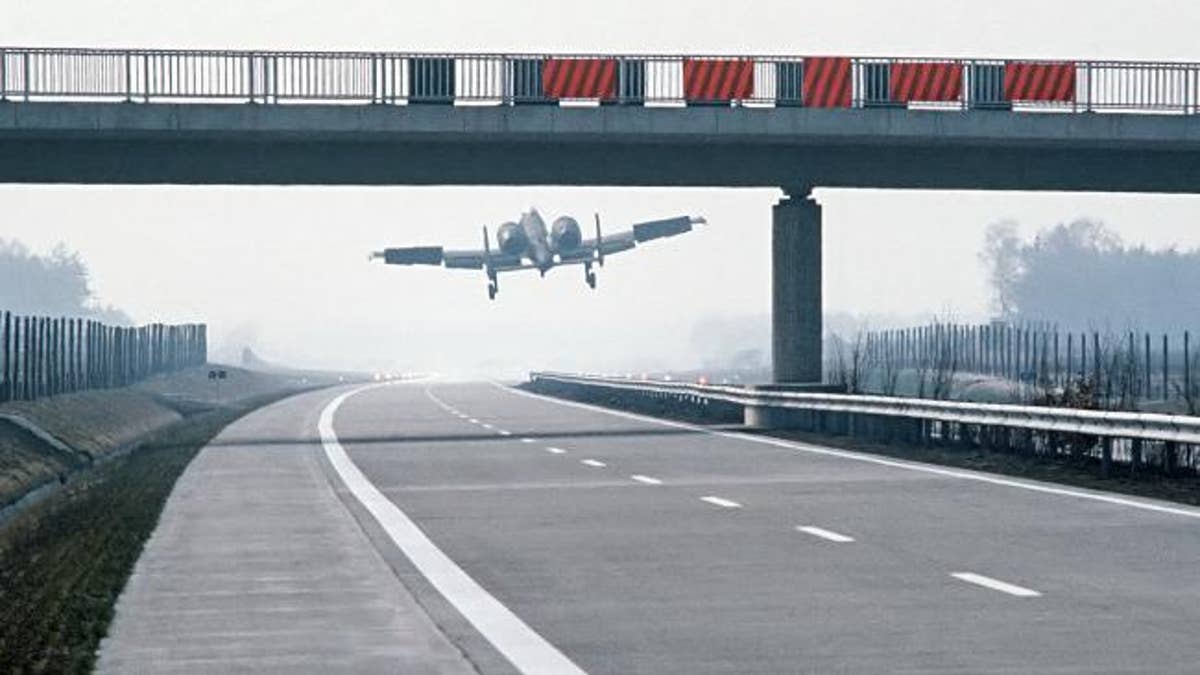 To the untrained eye there's nothing remarkable about the A44 autobahn in central Germany, the motorway that links the industrial and heavily-populated Rhine-Ruhr region to the country's heartland.
But just near to the small town of Buren the road, ever so subtly, begins to change to serve its secret — and chilling — second purpose.
At this spot, the A44 doubles up as a secret military runway ready and waiting for war to be declared.
Called highway strips, these motorways have been specifically designed so if a country's air bases are taken out, fighter jets can still take to the skies.
Subtle as they are, the signs are there.
The road's usual gentle curves die away replaced by dead straight carriageways; the grassy median strip disappears uncovering a centre runway line. And, off to the side, what looks like a large car park is actually an aircraft parking bay.
Germany is not alone in having highway strips. They also exist, equally unnoticed, in Switzerland, Poland, Singapore, Taiwan and Finland.
Australia too has a small number or roads that, in just moments, can be turned into runways.
The latest country to sign up to roads-turned-runways is India. Last year, the country's transport minister Nitin Gadkari said they could be a boon for civilian air travel.
"We can close road traffic when a plane lands and open once the plane has taken off. Airport investment costs would come down as the road will also be used as an airstrip," he said.
But Srikanth Ramakrishnan, a journalist with Swarajya magazine, pondered whether a military use was more likely. Indeed, in 2015, an Indian Mirage jet successfully landed on a motorway outside Delhi.
"In the border areas in Arunachal Pradesh [province], which Gadkari has mentioned in his plan, airstrips could be built for the air force to use in case of, say, a Chinese incursion."
First established during the Cold War, highway strips took advantage of Germany's pioneering autobahn network.
War planes could be parked in bushes, next to the highway, ready to take off in minutes.
In 1984, NATO forces commandeered an entire autobahn, near Ahlhorn in north west Germany, for 48 hours.
A mobile air traffic control tower was wheeled in as Hercules transporters and Tornado jets practised their landing skills just meters from an overpass.
Finland annually tests out the runway rigour of its freeways. Last year, it even invited the Swedes to land some of their planes on a main road north of Helsinki.
The Finns haven't just modified their highways for planes, their planes have modifications that suit highways.
"[The aircraft's] folding wings have turned out as a useful feature during taxi on narrow roads," remarked the Finnish air force.
The country can also install arrestor strips on highways, tough wires that can hook onto fighters bringing them to a halt in just 300 metres.
In Australia too, some roads are not what they seem.
Head out towards Broken Hill on the Silver City Highway and out of the desert appears what looks to be a pedestrian crossing.
In fact, it's the markings at the beginning of a runway. To the left is a telltale oddly large car park.
In just about as remote place as you can get, $5 million has been spent by the NSW Government to build a road runway.
But, unlike in Europe and Asia, this highway strip has a more benign purpose — it's an emergency landing area for the Royal Flying Doctor Service (RFDS).
It's also hardly a secret with large signs warning of fast approaching aircraft.
The airstrip can be used 24/7 in all conditions and means residents who had previously travelled up to two and a half hours to get to a hospital can reach help faster.
"Previously the RFDS had to land on unsealed airstrips on isolated properties with property owners bearing the cost of maintaining the landing area," then Roads Minister Duncan Gay said at the airstrip's opening in 2015. "This is a better solution that is safer and far more reliable."
A spokeswoman for the RFDS told news.com.au that turning a highway into a makeshift runway was relatively easy as the aircraft they used were far lighter than commercial or military planes
"You just need a properly sealed road surface but you do need an extra sealed area next to the road to turn round the aircraft," she said.
However, at the end of the day, roads are not runways.
"You need to be able to warn motorists as even though it's quite remote you don't want a plane landing as you're driving," she said. "So we have police officers on hand to stop the traffic."
Pilots prefer to only land on the road runways during daytime hours due to the lack of landing lights, "but it is possible to light the road in an emergency — by burning loo rolls [and lining them along the road]".
The WA Government has gone as far as publishing guidelines as to what roads make a good runway.
They should be generally flat, with no objects nearby more than 45 meters above the ground, no intersections, a low risk of flooding and no cattle grids.
Residential areas should be avoided, the advice states. Although, this is clearly not an issue for the heavily built city state of Singapore which conducted exercises late last year landing fighter jets on urban streets.
It took 48 hour to remove the road's lamp posts, traffic lights, bus stops, road signs and guard rails.
"110 airman and women converted the 2.5km and just 24m wide Lim Chu Kang Road into a runway. And included a mobile air traffic control tower, runway lights, distance markers and arrestor gear for fighter planes to hook and stop in time.
"Easy to say but hard to do," said Defence Minister Ng Eng Hen in November.
But while some roads might be ready and waiting to be secret military runways, there are a few rare cases where military runways have become actual roads.
Ross Smith Avenue in Darwin is unusually wide, long and straight for a small suburban street. That's because it used to be the runway for the city's airport before it moved to its current digs
If you look very carefully, down a side street, you can still spy the Qantas hanger.