Ford resets record for Largest Flag Pulled by a Moving Vehicle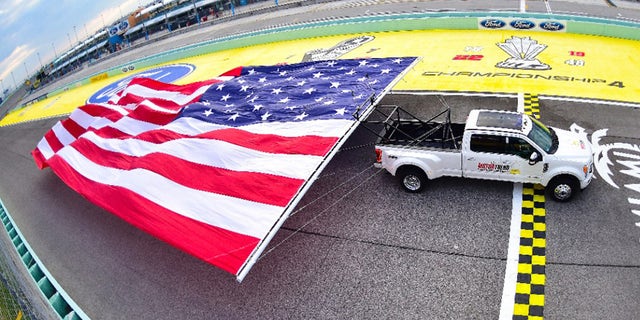 Ford reset a Guinness World Record at Homestead-Miami Speedway in Homestead, Florida on Saturday as part of the Ford Championship Weekend.
Using the all-new Ford F-450 Super Duty, Ford towed a 4,124 square foot (45 x 92 feet) American flag four laps around the 1.5-mile Homestead-Miami Speedway early in the morning, achieving the record for the World's Largest Flag to be Pulled by a Moving Vehicle. An encore performance will be put on as part of the pre-race festivities ahead of the NASCAR Sprint Cup Series finale on Sunday.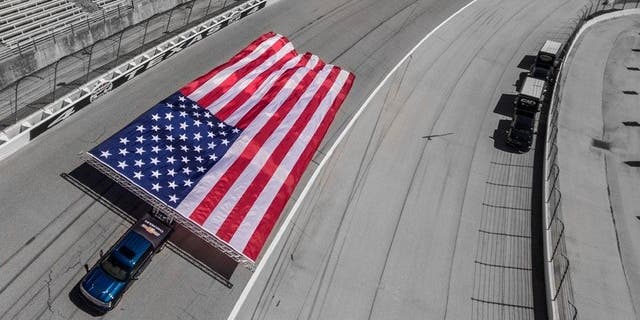 The record had previously been held by Chevrolet, which towed a 40 by 80-foot flag at Texas Motor Speedway back in September.
Chevy sets the most American world record ever
"At Ford and with Ford trucks in particular we are used to being number one," said Doug Scott, Ford Truck Group Marketing Manager. "Towing the largest banner here today and setting the Guinness World Record in the category certainly fits with our DNA and what we are all about when we talk about Ford trucks and their towing power."
To set the record, the truck has to pull the flag 328 feet along without it touching the ground. Ford managed 360 feet, and then continued around the circuit for four laps. Ford credits the truck's 6.7-liter Power Stroke turbo diesel V8, which produces 925 lb.-ft of torque and 440 horsepower, for completing the stunt. Forty-five-foot riggings were constructed to accommodate the flag and a team of 20 people helped launch and retrieve the flag, ensuring it didn't touch the ground.
The F-450 Super Duty delivers maximum gooseneck towing of 32,500 pounds, 27,500-pounds of fifth-wheel towing and 21,000 pounds conventional towing, with a maximum payload rating of 7,630 pounds.