Ferrari owner claims hotel valet gave keys to his $300G car to wrong man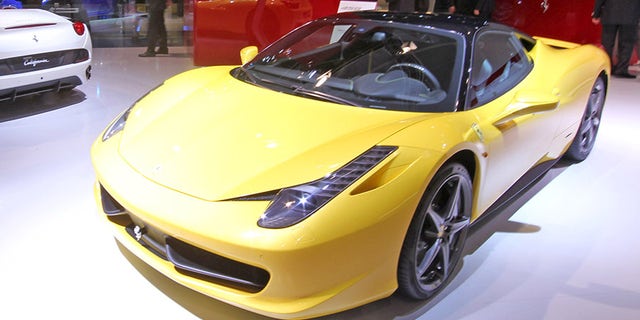 The owner of a $300,000 Ferrari has filed a lawsuit after a valet at a Florida resort reportedly gave the keys to someone who was trying to impress a woman.
James "Skip" Fowler, 73, parked his car — a yellow 2014 Ferrari 458 Italia Spider — outside the Vinoy Renaissance St. Petersburg Resort & Golf Club on July 27 while attending a lawyer's convention, the Tampa Bay Times reported.
The six-figure car was reportedly parked outside the hotel for more than 12 hours. Around midnight, Levi Miles, then 28, reportedly told the woman he was with, 24-year-old Chloe Rimmer, that the car was his and demanded the keys from the valet, before saying the ticket was in his car and he'd bring it back to him. He never did.
The man, according to a police report, "seemed to be impatient" and "demanding," before he and Rimmer sat in the vehicle for "quite a while." The valet said he stopped paying attention after he "figured he wasn't getting a tip."
ARE YOU FOLLOWING FOX NEWS AUTOS ON FACEBOOK YET?
The two drove off until a police officer stopped Miles around 12:30 a.m. for driving without taillights. The police report noted Miles had "difficulty" handling the car, that cocaine was found on the center console, and that Rimmer had marijuana in her purse.
Miles allegedly told several stories, then said he had just met Rimmer when she asked if the Ferrari was his — to which he responded: "Yeah, that's my car."
"I was just trying to impress the girl I just met at the Vinoy," he told officers. He reportedly told officers he knew the car wasn't his, but had planned to return it to the Vinoy a few hours later.
$10 MILLION FERRARI SETS AUCTION RECORD FOR NEW CAR
But Miles says he's innocent of grand theft, because the valet gave him the keys. He also faces charges of cocaine possession and habitually driving with a suspended or revoked license. Rimmer faces a charge of marijuana possession.
Fowler has accused the hotel and valet, 717 Parking Enterprises, of negligence and gross negligence. He said had to spend "significant sums" on car inspections, repairs and legal fees after he got his Ferrari back, and that its value had been "diminished."
The Associated Press contributed to this report.